Victor Henning
Partner/Associate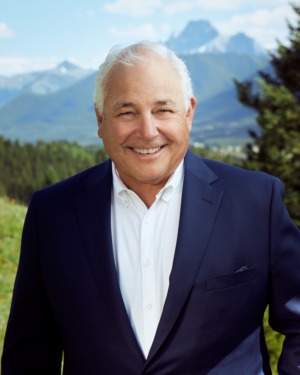 Who is Victor Henning and what gets him out of bed in the morning?
A lot of people ask me why I do what I do. It's a question that takes some serious thought.
I love living in Canmore, "More Bliss" per square foot than anywhere! It was my dream to live here 15 years ago. I want to help people live the same dream.
For me it comes down to helping like-minded people, families and active people find that perfect piece of Canmore and help secure it for them. It's putting my years of experience together in Real Estate Development, Marketing and Sales to work for them.
For those who are selling, it's bringing all my marketing experience together to help them close one door, one chapter in their life, and help them move on to their next great adventure.
I do this with creativity, great negotiation skills and a detailed and human approach. I make your priorities mine and treat your assets as if they were my own.
That's what get me out of bed in the morning, It's what I get excited about!
Why I do what I do is nothing more than the happiness I see in my client's eyes when I hand them the keys to their new property or tell them the cheque is on the way.
Testimonials
Positive:
Professionalism,
Quality,
Responsiveness,
Value
Over the past 5 years we have been fortunate to work with Victor on the purchase and sale of two different Canmore properties. Working with Victor has been a pleasure and he and his team has impressed us on a number of different levels:

1) Market Knowledge and Experience – Victor is a pro. He has an in- depth knowledge of the Canmore market, it's history and as well he has worked with many of the real estate agents in the market. The Canmore market can be challenging, but with Victor's experience we were able to make the right decision in a timely manner.

2) Advice – Victor took the time to really understand what we were looking for in a property. He is a straight shooter which allowed him to provide us with an unbiased assessment of the advantages and disadvantages of each property. At no time did we feel that he was pushing a particular property, but, rather he was trying to ensure that we found the right one!

3) Accessibility – This is an area where Victor goes beyond the call of duty. He goes out of this way to ensure that he is available regardless of the time of day. If we needed his assistance on any matter he was there. This proved to be invaluable in ensuring any issues and concerns were resolved in a timely manner.

4) Service – Victor not only understands the real estate market he is extremely knowledgeable and helpful in many other aspects which greatly facilitates a successful transaction. He recommended and introduced us to lawyers, contractors and other individuals who were critical in helping us settle into our house.

5) Communication – Victor is proactive and ensured that we were aware and understood everything. In our dealings with him over the past 5 years there have been no surprises.

In sum, we would highly recommend Victor Henning and would absolutely hire him again.

Barb and Jeff
Barb and Jeff
Positive:
Professionalism,
Responsiveness
Victor was able to guide us on the selling of our home and accommodate our quick turn around time. He was very knowledgeable and professional. I would highly suggest working with Victor if you are looking to purchase or sell!
Randi Lynn
Victor Henning provided excellent service. He was very responsive and definitely helped us in obtaining a fair price for the sale of our property.
Pat G
"Victor helped us buy a house in that we absolutely love. He understands the Canmore market well. If you are looking for a realtor who is helpful, caring and responsive, Victor is your guy." (Charlotte and Adrian)
Charlotte and Adrian
"Victor is more of a real estate partner than a real estate agent, treating your property and interests as though they were his own and going well-above the call of duty. Incredible attention to detail, a seasoned real estate professional, with all the Bow Valley street-smarts you would expect from a long time resident of the Valley….all of which makes Victor the one, only and obvious choice.
Valerie and Michael
More Testimonials