10 House Maintenance Tasks to Do This Weekend
Posted by Devin Stephens on Friday, January 3, 2020 at 10:33 AM
By Devin Stephens / January 3, 2020
Comment
If you are a local Banff-area resident (or seasonal visitor), you understand how harsh winters in the Canadian Rockies can be. The crazy, unpredictable weather patterns caused by the mountain range can take a toll on your property if you haven't prepped your home. Below is a list of ten house maintenance tasks to do this weekend to ensure you are prepared for all that winter can throw at you!
Turn off and cover outdoor faucets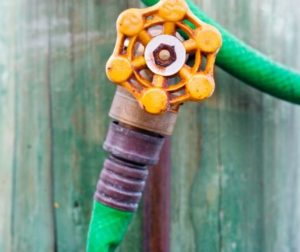 Hopefully this task has been completed. During the winter, the water supply to your outdoor faucets and sprinkler systems need to be turned off. When there is water in the outdoor pipes, you run the risk of the pipes freezing and then bursting. This ends up costing hundreds of dollars to fix, plus the added price tag of any water damage done to your home. Before the temperatures really drop, double-check your water system!
Check drainage maintenance around home
Going along with the water faucets, you'll want to check on the drainage situation around your house. If the soil has settled around your foundation, leaving gaps, this can be an issue once all of the snow begins to melt. You'll also want to clean your gutters and downspouts if you hadn't already taken care of that last fall. Make sure any water that will be draining with melting snow in the spring will be running away from your home.
Reverse ceiling fan direction
Most ceiling fans have two settings: Summer and winter. You will want to change your ceiling fan settings to winter in order to circulate warm air. Hot air rises. When your fan is set to winter mode it pushes the warmer air down to the rest of the room. This not only make your space more comfortable, but it helps take some of the pressure off of your heating unit. This saves you energy and money! The best part about this maintenance task is that it only takes a few seconds!
Check home's heating/air system (filters)
Although you should have done this when you first kicked on your heating unit, now is better than too late! The best practice is to have an HVAC expert come do a quick glance at your unit. If you don't have time, at least check and replace your filters. You won't want to be caught in freezing weather with an out-of-order heating unit. If you're looking for recommendations for HVAC service providers, check out Canmore Plumbing and Heating, Big Mountain Services, or Cascade Mechanical.
Check insulation
Insulation helps protect homes from extreme weather elements. If there are gaps in your insulation, you're leaving your property open to drafty areas and higher heating expenses. If you aren't comfortable checking yourself, you can have a professional come in and do a sweep of the attic, floors, walls, and vents.
Seal around doors and windows
Doors and windows will naturally have small air leaks. They are the points in the home that are meant to be opened and closed. You will want to invest in some weatherstripping to help seal out the cold air and keep the warm air inside.
Test carbon monoxide and smoke detectors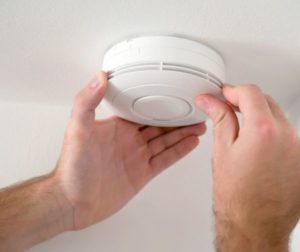 If you haven't completed this maintenance check, do so immediately! We tend to use more CO-producing devices in the winter. It is important that you test (or install!) carbon monoxide detectors in your home. Without an electronic detector, it is nearly impossible to know if you have a carbon monoxide leak as it is colorless and odorless. With the added use of space heaters and fireplaces, checking your smoke detectors and replacing the batteries is also a recommended maintenance task for the winter!
Clean chimney and gather firewood
If your home has a fireplace that has not been used since last year, you will want to make sure the chimney has had a proper cleaning before lighting it up again. You can have a professional chimney sweep clean the soot and debris out. Or do it yourself! You will also want to have plenty of kindling and firewood ready so you aren't having to run out into the cold to gather it.
Prepare for snow removal and maintenance
Canmore sits right next to the Rockies. We expect the mountains to dump snow on us. Before that happens, you should stock up on all of the snow and ice removal necessities. Do you handle your own snow removal? Make sure your shovel is in tip-top shape and that your snowblower has plenty of fuel for those heavy snows. You'll also want to stock up on salt and ice melt. If you wait til you really need it, you'll find that most of the local stores will be running low!
Stock your emergency kit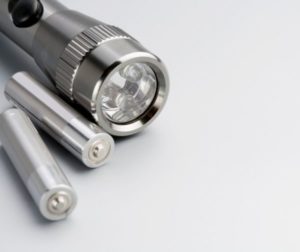 With the cold, wind, ice, and snow, there is always the chance that your home and those around you could lose power. If you have a generator, double-check that it's in working order. If you don't have access to a generator, you can still stock up on necessities in case you lose power. What should you put in your emergency kit? We suggest flashlights, extra batteries, candles, non-perishable foods, bottled water, and thermal blankets or sleeping bags.
At Canmore Real Estate Company, we hope you take your home maintenance as seriously as we do! If your home is well-maintained, it will keep you safe, cozy, and happy this winter. Take the weekend to double-check your winterizing to keep your household functioning at its highest capacity. If you're looking for recommendations on service providers in the area, we'd love to give you some of our local contacts! Reach out to Devin Stephens, one of our seasoned real estate agents. He would be happy to answer all of your questions and point you in the right direction! Get ahold of Devin at 403.688.7769 or through email at [email protected].