3D Technology sells Canmore homes with less stress & to a bigger Audience.
Posted by Devin Stephens on Wednesday, October 7, 2015 at 7:33 PM
By Devin Stephens / October 7, 2015
Comment
With a surging global economy and more people turning to online shopping, it comes to no surprise that businesses of all shapes and sizes are looking to utilize current technology to help their customer and revenue growth.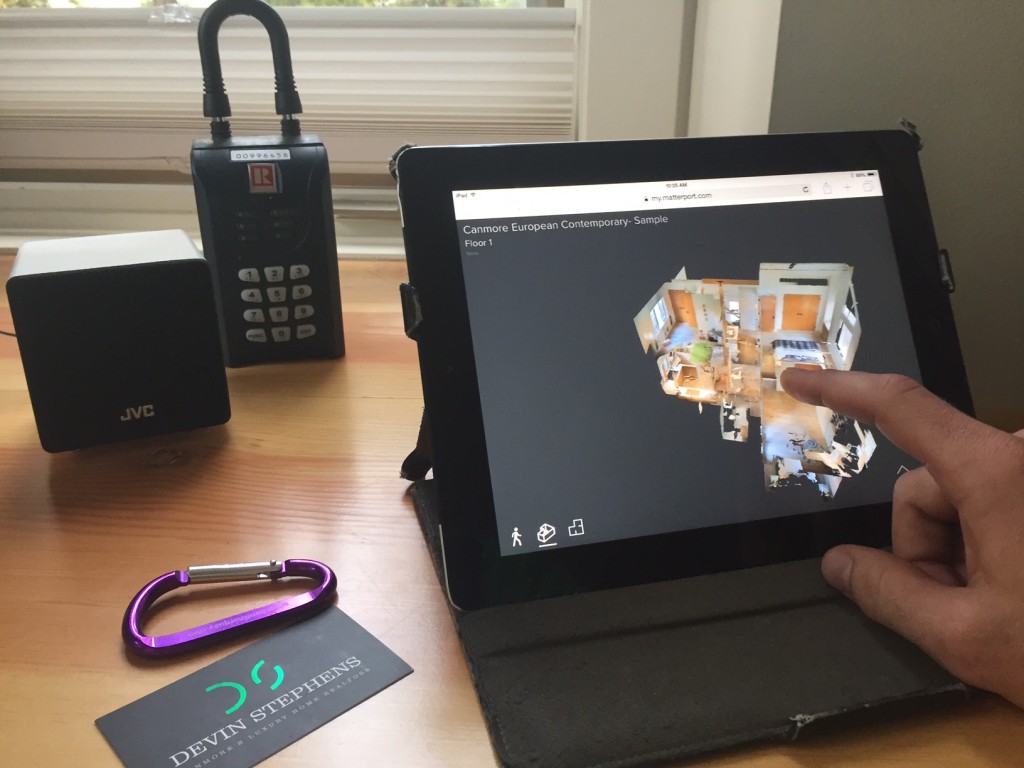 Canmore real estate agents Devin Stephens and Bob Ashford have introduced an innovative, 3D real estate technology to the Bow Valley – The Matterport 3D Camera System. This system offers home sellers a dimensionally accurate 3D model of their home that can be viewed online by prospective buyers.
Similar to technology that powers google street viewer, Stephens and Ashford are filming Canmore's home interiors using advanced 2D and 3D spatial photography. These images are stitched together to create an impressive, online experience that seamlessly showcases the featured property from every possible angle.
"I went to a conference in the U.S about six months ago and I heard about this new technology that was coming out and I kept my eyes and ears open as I saw it progressing. It was about a five month wait for us, there is a huge waiting list for this camera," Stephens said. "Now that we have it, we've been shooting like crazy on a ton of properties and everyone we show it to is just blown away and can't believe that this is available now."
Prospective buyers with an internet connection can click through and tour properties that have been filmed. Pan in through hallways, around corners, up stairs, into bedrooms, check out the view and have an immediate sense of a home's complete layout and utility. Pan out and view the property's photographic blue print, floor by floor, from either 'birds eye' or 'dollhouse' views.
"The role of today's real estate agent is changing as new technologies emerge," Stephens said. "Bob and I are using a variety of tools to capture the individuality of each home and to market that home, not just to local residents, but to out-of-town or foreign buyers who may want to screen then view properties within the Bow Valley. This technology allows us to quickly render accurate 3D Visual details of every home we work with, making each home easier to market."
Stephens and Aishford have already filmed several homes in the Canmore area. The feedback has been great. "This is helping everyone save time," Ashford said. "This technology is actually helping to accelerate the purchase process."
Prospective buyers are able to view the property and decide whether it's a good fit prior to scheduling a visit. For those selling, the individuals who visit in person have already vetted the property online and are seriously considering buying that home.
"Clients have told us they feel less stressed," Stephens said. "They aren't forced to vacate their home nearly as often, or feel the pressure of keeping their home in pristine condition around the clock. The technology is pairing serious buyers with the right homeowners and cutting down on visits from curious neighbours or aspirational buyers who can now opt to view the property online."
Both Stephens and Ashford are constantly updating their sites to share views of new properties for both the local and international markets. If you are in the Canmore area and you pass by one of the properties they represent, you will notice a sign stating, 'view this home in 3D', and with your smartphone or laptop, could be on a virtual tour within minutes.
Contact us today to have your home captured with this revolutionary technology or view our properties at
3D Gallery
by Cole Carruthers, Rocky Mountain Outlook.