5 Reasons Remote Workers Choose to Live in Canmore
Posted by Devin Stephens on Saturday, September 9, 2023 at 6:35:24 PM
By Devin Stephens / September 9, 2023
Comment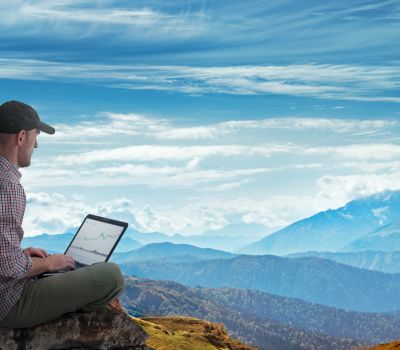 Moving to Canmore as a remote worker has become increasingly popular for several compelling reasons. This charming mountain town, nestled in the Canadian Rockies, offers a unique lifestyle that appeals to remote workers seeking a blend of natural beauty, outdoor adventures, and a strong sense of community.
If you have the opportunity to choose anywhere as your new home thanks to your remote job, consider some of the beautiful homes for sale in Canmore and these 5 reasons remote workers choose to live here.
1. Scenic Beauty
Canmore is renowned for its breathtaking natural surroundings. The towering peaks of the Canadian Rockies, pristine lakes, and lush forests provide an awe-inspiring backdrop that can make remote work feel more enjoyable and invigorating. The opportunity to work with a view of the mountains is a significant draw for those seeking inspiration and a change of scenery.
The city's proximity to pristine wilderness is a major attraction. Remote workers can easily access national parks like Banff and Kananaskis, which offer endless opportunities for exploration, wildlife encounters, and nature immersion. These experiences can provide much-needed breaks and rejuvenation.
2. Work-Life Balance
Canmore's lifestyle promotes a healthy work-life balance. After a productive workday, residents can step outside their doors and explore the wilderness, go for a bike ride along scenic trails, or unwind by the riverside. This balance contributes to reduced stress and a higher quality of life.
This community is an outdoor enthusiast's paradise. Remote workers can easily incorporate outdoor activities into their daily routines. Whether it's hiking, mountain biking, skiing, snowshoeing, rock climbing, or simply taking a leisurely stroll, the abundance of outdoor options encourages an active and healthy lifestyle. Just imagine trading in your commute time for a daily hike or bike ride.
3. Proximity to Calgary
Canmore is conveniently located just an hour's drive from Calgary, Alberta's largest city. This proximity provides access to additional job opportunities, services, and cultural amenities when needed, allowing remote workers to enjoy the best of both worlds.
If you need to travel occasionally for work, you will also enjoy being conveniently near Calgary International Airport.
4. Escape from Urban Crowds
Many remote workers appreciate the opportunity to escape the crowded and hectic pace of city life. Canmore offers a peaceful and serene environment, allowing residents to disconnect from the hustle and bustle while remaining connected to the world through remote work.
The tranquil atmosphere of Canmore can create an ideal work environment for remote workers. With less noise and distractions than a bustling city, residents often find it easier to concentrate on their tasks, leading to increased productivity.
5. Community
While there are many people traveling to Canmore throughout the year, it truly is a tight knit and welcoming community. For remote workers, this sense of belonging can be invaluable. Engaging with neighbors, participating in community events, and forming connections with like-minded individuals fosters a strong sense of community that can enhance well-being and combat feelings of isolation that are sometimes associated with working from home.
Canmore may be a smaller town, but it still offers networking opportunities for remote workers. Community events, workshops, and local organizations provide chances to connect with other professionals, exchange ideas, and potentially find collaborations or new opportunities.
Ready to learn more about homes for sale in Canmore? Contact us any time.