5 Reasons to Buy a Vacation Home in Canmore
Posted by Devin Stephens on Tuesday, May 31, 2022 at 9:58 AM
By Devin Stephens / May 31, 2022
Comment
Located just 20 minutes outside of Banff National Park in the stunning Canadian Rockies, Canmore just may be the perfect place to buy a vacation home. Of course many people dream of owning real estate in Banff, but if you don't meet the requirement to do so (including working in Banff, a legal requirement for all real estate owners in the national park), Canmore is an excellent alternative.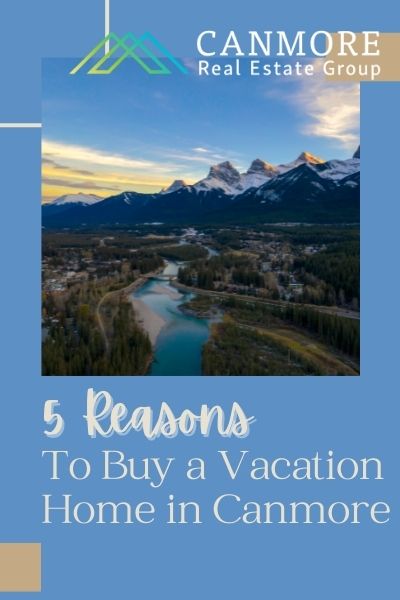 Investing in vacation homes is a major trend right now, as more people realize they could be getting an ROI on their vacation funds, building their investment portfolio while enjoying access to a personalized vacation home. Income potential from a Canmore vacation home includes both the slow appreciation of the investment over time, and the potential to rent the property to other tourists when you aren't using it Canmore is an ideal location to do just that. Keep reading for 5 reasons to buy a vacation home in Canmore.
1. It's a dream vacation spot
When you decide to invest in a vacation home, make sure you choose a location that not only has a strong local real estate market but is also going to add value to your life. Canmore offers both. Just 20 minutes outside of Banff National Park, it is a beautiful mountain town with an ideal blend of outdoor recreation for miles around, and plenty of local amenities that include dining, shopping, and entertainment in town.
Canmore is a walkable town, with stunning views of Three Sisters and Ha Ling Peak, and boasts a real estate market with everything from charming cozy cabins to spacious estates.
2. It has a thriving real estate market
Of course, buying real estate requires not just a location you like, but a place with a market that makes for a lucrative investment. Canmore fits the bill. Because Canmore's economy is significantly supported by worldwide tourism, it is less volatile than the commodity-based local economies in many other Canadian markets. Canmore is quickly increasing in popularity for global real estate investors as more people realize what a smart investment it is.
3. Canmore is an ideal place to work from home
If you, like millions of people in the world, now have the opportunity to work from home some or all of the time, buying a vacation home in Canmore is an excellent option. Bring your work with you and enjoy remote workdays from a beautiful location, where you enjoy the natural beauty of a rural mountain town with the benefits of excellent cell reception and high-speed internet.
4. You will be close to Calgary
Access to Calgary and the international airport there is easy from Canmore, with just a one-hour drive. This makes commuting to your vacation home from anywhere easy. You can also take a quick trip into the city for any major dining, shopping, or entertainment you can't find in Canmore.
5. Canmore has something for all ages
Especially important if you are considering offering your vacation home as a rental property, Canmore is a location that appeals to people of all ages and interests. If you like hiking, mountain biking, or any other type of outdoor adventure, Canmore and Banff National Park will be a paradise for you. If you have children with you on vacation, family-friendly amenities like parks and easy walking paths are easy to find. If you prefer indoor recreation away from the elements, Canmore offers that too with a large indoor recreation facility that features childcare, a climbing wall, and a pool with a waterslide. Looking for a peaceful getaway? Canmore has that too, with a peaceful local farmers market and many locations set away from any road noise.
To find out more about why Canmore might be the perfect location for your vacation home, contact our office any time.
Start Searching Canmore Now