5 Reasons to Buy a Vacation Home
Posted by Devin Stephens on Monday, July 25, 2022 at 2:27 PM
By Devin Stephens / July 25, 2022
Comment
As you consider how to invest for your future financial stability, while also enjoying your life now, the thought of owning a vacation home in one of your favorite destinations may become an option. Owning a vacation home is an ideal way to invest in your future while maximizing your current quality of life. Still not sure? Keep reading for 5 reasons to buy a vacation home.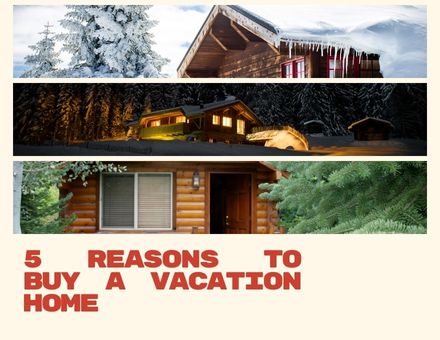 1. Diversify your income
Buying a vacation home has to make financial sense for any of the other benefits to be worthwhile. In many cases, owning real estate in addition to your primary residence will be one of the best ways to diversify your income. When you own a vacation home, you can leverage this asset in multiple ways.
One way to diversify your income with a vacation home is by offering it as a short term vacation rental when you are not using it for personal vacations. In many cases, the income from your vacation home will more than pay for itself, becoming passive income with the added benefit of a vacation home that is ready when you are. The income from the short term vacation rental fees will likely cover all maintenance, furnishing, and ongoing expenses for the property as well.
2. Minimize your vacation expenses
When you own a vacation home, your cost to vacation is greatly minimized. You only need to plan for transportation expenses to get to the home, significantly shrinking your expenses. This almost always results in a more preferable lifestyle of more frequent vacations, especially for those with flexible work schedules or the ability to work remotely.
3. Build equity for future generations
Many people are concerned about how to establish themselves in such a way that they have something to leave behind for future generations. Owning a vacation home is one of the best ways to do this. By keeping a vacation home property for a long period of time, you are building equity that will benefit whoever you leave the property to. In addition to the financial legacy you will leave with the vacation home, the memories a family builds over decades returning to the same vacation home are priceless.
4. Get a head start on retirement
Preparing for retirement is best done by saving and investing in various ways, and real estate is one of the best. Get a head start on your retirement preparation by purchasing a vacation home that will be waiting for your when the time to retire comes. At that point, the property will have accumulated significant equity and you can either sell the property, refinance it, or move into the property to significantly reduce your monthly costs. Whatever situation you end up in when retirement time comes around, owning additional real estate will open up your options and be a benefit to you.
5. Guarantee access to your preferred vacation accommodations
One of the major factors determining how enjoyable a vacation can be is the accommodations. Having a place to stay that is designed to your preference, equipped with your ideal mattresses, furniture, kitchen equipment, and other details takes a vacation from good to great. When you own your own vacation home, you can guarantee that you will have access to your preferred place to stay every time you visit. Over time, you can perfect the property to suit your needs and preferences, significantly adding to the quality of your vacations.
When you are ready to begin looking for a vacation home in the Canmore or Banff areas, we are here to help. We have the team of experts you need to find your ideal property, so contact us any time.
More Tips for Homeowners that Own Rentals
Browse the NEWEST Listings in and around Canmore Alberta