5 Things to Do in Canmore
Posted by Devin Stephens on Monday, May 29, 2023 at 1:48:38 PM
By Devin Stephens / May 29, 2023
Comment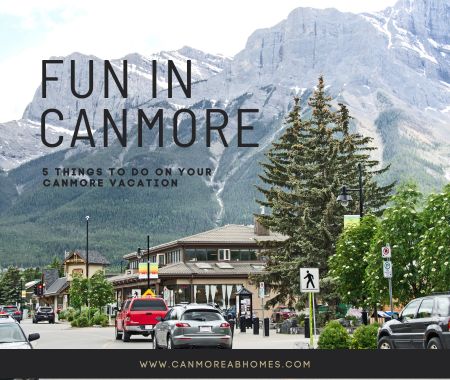 If you are looking for something fun to do in Canmore, it is unlikely that you will ever run out of options. With Banff National Park just minutes away, breathtaking scenery in every direction that draws tourists from around the globe, a great food scene, and access to just about every type of outdoor recreation, it's no wonder Canmore is one of the best places to invest in vacation rentals in Canada.
Whether you are looking for vacation homes for sale in Canmore or just want to plan your next weekend, check out these 5 things to do and contact us any time to learn more about investing in Canmore real estate.
Hiking
While a comprehensive list of the best hiking near Canmore is far beyond the scope of this post, we can't make a list of the best things to do in Canmore without mentioning the amazing hiking opportunities.
People travel from around the world to enjoy the trails and summits in Canmore and Banff. Some of the best places to hike nearby include:
East End of Rundle (called EEOR by the locals) is close to town and offers a challenging scramble to enjoy impressive views of the Bow Valley and Ha Ling Peak
Kanasakis Provincial Park, the foothills of the Rockies, features many trails to choose from depending on how far you want to hike and how challenging you would like the hike to be
The Three Sisters, for a serious challenge. The Little Sister in particular is best for advanced rock climbers, and the Big and Middle Sisters feature challenging scrambles as well
Highland Games
The very first Highland Games were held in the 11th century in Scotland, and were the idea of King Malcom III. The king's nickname? Canmore. After you learn about this historical tidbit, it should come as no surprise that Canmore, Alberta is home to its own lively and exciting Highland Games.
The original Highland Games were held to determine who were the fittest men in town, then bestowing on them the honor of becoming mail carriers. While the Canmore Highland Games no longer award the winners with postal service employment, there is still plenty of friendly competition alongside an abundance of kilts, bagpipe music, and great food. The event has been held in Canmore for over 30 years, taking place every September.
Golfing
Canmore is a beautiful place to play a round of golf, teeing off among breathtaking views of Three Sisters, Cascade Mountain, Pigeon Mountain, and Ha Ling Peak. Some of the favorite courses in town include Stewart Creek Golf Course and Country Club, as well as Silvertip Resort.
Eating
Canmore may be a small mountain town, but it is not at all lacking in the restaurant department. You will find everything from casual family friendly spots to fine dining with memorable views to casual breweries where you can relax after a hike. This is one of the best places for foodies who like to enjoy their time outside.
Fishing
Canmore is one of the best places to fish in Canada, with numerous streams and rivers fed by the Canadian Rockies. Fishing regulations change by season, so don't forget to check with local guidelines before planning your fishing trip.
Some of the most popular places to fish in and near Canmore include:
Spray Lake
Bow River
Quarry Lake
Grotto Mountain
Lake Minnewanka
With so much to do, investing in a vacation home or income property in Canmore is an obvious choice. Ready to learn more about vacationing or investing in Canmore? Contact us any time.