5 Things to Know Before Buying a Hotel
Posted by Devin Stephens on Thursday, December 2, 2021 at 6:45 AM
By Devin Stephens / December 2, 2021
Comment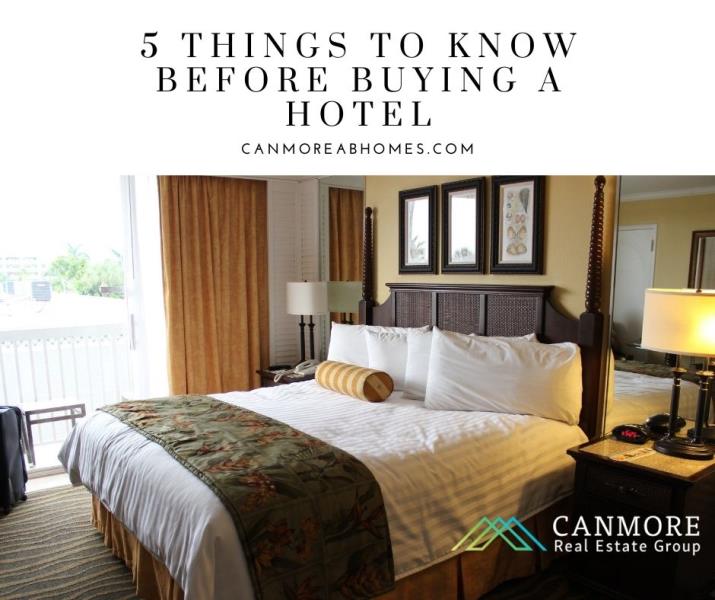 A hotel, resort, or short-term lease complex is an excellent way to generate income and build long-term wealth. When the economy is strong, hotels are a great way to earn income and as the economy ebbs and flows, hotel owners have the unique ability to raise prices to match the demand, something that typical property investment owners can't always do.
In the Canmore and Banff area, hotel ownership and investment properties are a great way to earn income as there are certain restrictions, especially in Banff, about rental properties and owning property. Here are five great things to know about buying a hotel.
#1. Choose the right location.
Just as finding the right home has everything to do with location, location, location, buying and investing in the right hotel offers similar paybacks. If you're looking to buy a brand-name hotel with a long history, you may have the longevity to back it up but you might not also get business from simply being in the right place at the right time. Choosing a well-known franchise or chain hotel is going to be different than building something of your own. People may seek you out because of your unique reputation rather than simply knowing a household name.
Is the hotel out of the way? Is it more of a destination hotel or something that people will need to utilize on a regular basis being next to a major highway? How many people stay in hotels nearby on a regular basis? Is it beneficial to be closer to those other competing hotels were farther out? When choosing the right location for a hotel, nearby activities and location matter.
#2. This is a full-time job.
Owning a hotel is a lot of work. Simply keeping the hotel in operation at the bare minimum takes a lot of effort and resources. Chances are you'll probably have a manager that can handle a lot of the day-to-day workings but you will need a staff to take care a lot of the details such as housekeeping, bookkeeping, any on-site amenity maintenance, repairs, management, and customer service. Staying on top of finances and staff levels will ensure that the property is doing exactly what you've purchased it to do, gain income.
You'll also need a plan for the different seasons. Here in Alberta, we obviously are going to have more major seasons so you need to discuss the possibility of maintaining occupancy through the different seasons with various opportunities and amenities. Do you have transportation issues? Will there be additional maintenance in the summer or winter?
#3. Buying a hotel can be expensive.
This also comes down to franchise or sole ownership. Buying into a franchise hotel can cost upwards of $200,000 just to get started. Other expenses are payroll, property taxes, mortgage, utility payments, and any start up financing as well as marketing. While it may be a chunk of money to get started, once everything is set up and rolling, the money will start to flow more easily. Being prepared ahead of time and knowing that you might need to budget tightly for the first year or two, will keep you on track for your final goals.
#4. Never neglect a customer's experience.
Your customers are the key to your investment success. The most important factor is what the guests feel when they walked through the door and experience. Plan on doing just about everything possible to make sure they have a great time. Remember, one bad review can definitely spark a fire. While a lot of hotels simply plan on guests utilizing them one time, never assume that you'll never see a guest again. Assume that you want to create the most amazing experience for them that they want to return on a regular basis. Make sure that the staff places an emphasis on kindness and helpfulness. Cleanliness is huge when it comes to the hotel industry, not just in the rooms but in the lobby and in landscaping. Keeping things in good working order, upgrading when necessary, and doing all you can to ensure the guests best experience is key to staying in business.
#5. Hotels only fail when there's subject to competition from newer and better properties.
Don't let your competition pass you by. Stay on top of upgrades, updates, and always give your clients something extra and better than your closest competition. This will ensure repeat guests and give you the edge over your competition.
Contact my office at any time for a list of possible hotels for sale in the Banff and Canmore area.