5 Tips for Renovating your Canmore Vacation Rental
Posted by Devin Stephens on Friday, September 30, 2022 at 1:21 PM
By Devin Stephens / September 30, 2022
Comment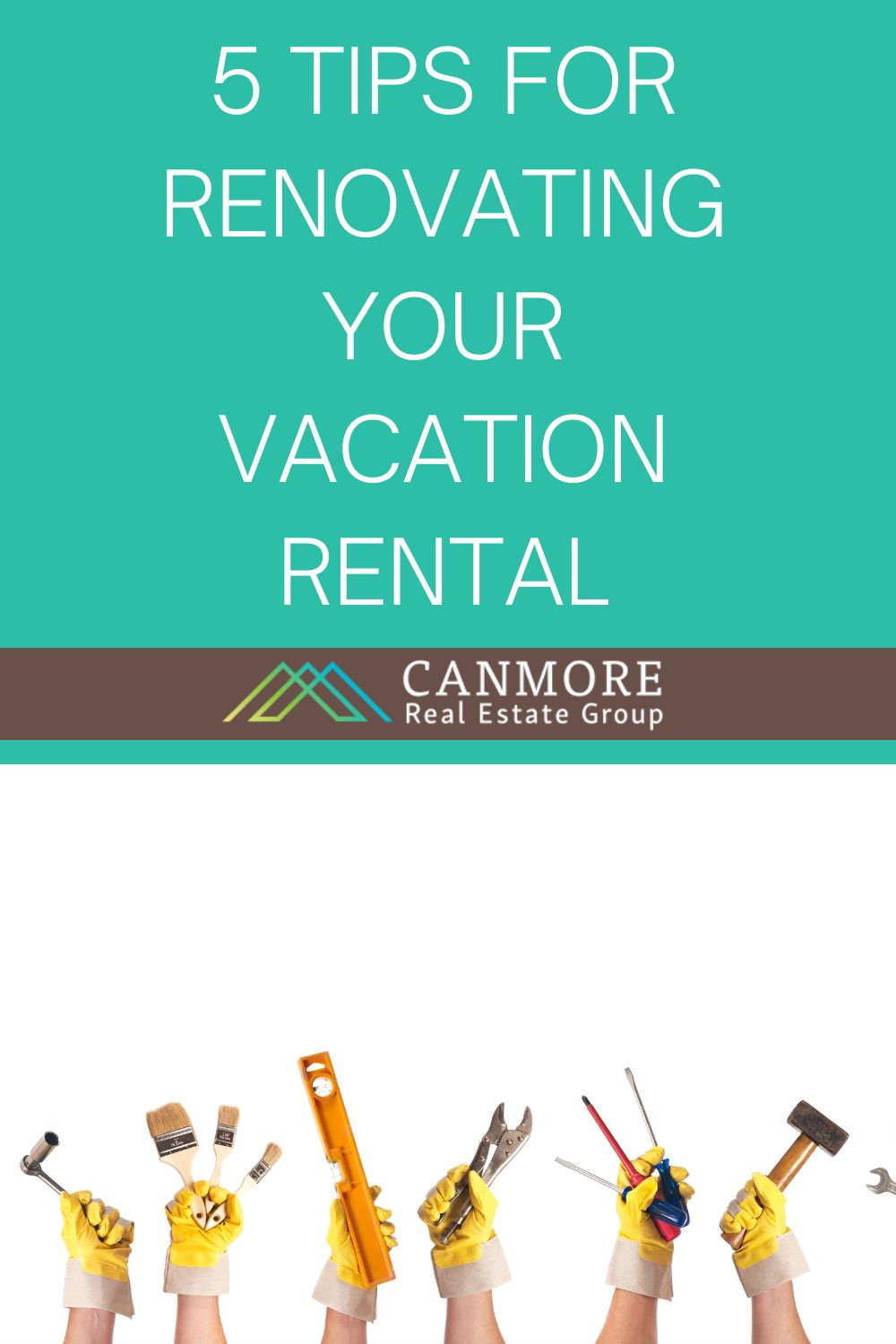 Canmore is one of the best places to invest in a vacation rental, with a steady demand that will translate into a successful income property. With so many places to visit in Canmore, Banff, and the surrounding areas, this is one of the hottest vacation rental markets in Canada.
Owning a vacation rental means the opportunity to vacation in your own property, while leveraging the asset to pay for itself when you are not using it. It's no surprise that so many people are diving into the vacation rental business that they realize this is one of the best ways to grow your passive income while increasing your quality of life.
If you have recently purchased a vacation rental property, are in the market for one, or are looking to make the one you have even more successful, check out these 5 tips for renovating your vacation rental.
1. Prioritize Durability
As you select the materials, appliances, and furniture you will use in the property, remember to prioritize durability. Vacation rentals see major wear and tear, and the longer lasting the elements of the property are, the less repairs and maintenance you will worry about in the future.
The key is to invest in the property early, rather than often. Focus on durability with these features of your vacation rental:
Flooring
Furniture
Appliances
Linens
Dishes
2. Timeless Design
A vacation rental can feature unique interior design, the perfect canvas for fun pops of colour or uniquely themed rooms. However, try to go for timeless design to avoid the need to redecorate frequently. If you decorate with trendy pieces, you may find that you are regularly needing to update the property.
3. Focus on Maximizing Profit Potential
If you are embarking on a true renovation or remodel, rather than just staging and decorating, take this opportunity to consider how you might maximize the profit potential of the rental.
One of the primary ways to do this is by increasing the number of people the property can accommodate. Add an additional shower to one of the washrooms, or optimize the floor plan to make space for additional beds. Perhaps you can finish a basement or loft to become an extra game room with a pull out couch, or maybe you can add some built in bunk beds or a Murphy bed to an existing bedroom.
Another way to maximize profit potential is to make the property distinctly kid friendly. Families looking to travel with young children are happy to pay a bit more for a vacation rental that is designed to be safe and comfortable for little ones. Stock your rental with basic necessities like a high chair, portable crib, or safety gate. You can also design a small playroom area with some child friendly toys or games. Don't forget to add some kid friendly dishes to the kitchen, too.
4. Add Smart Home Features
One of the best ways to make your vacation rental stand out from the crowd, while also making your job as host easier, is to add smart home features to it. Smart locks, smart TVs, WiFi thermostats, and more can make the rental more efficient and easier to manage remotely. The easiest time to add these features to the home is while you are already in the process of renovating.
5. Remember that Comfort is Key
As you make selections for your vacation rental renovation, keep in mind that comfort is key. While staying within your design budget is important to keep your property profitable, make sure not to skimp on areas that will make a big difference to your guests.
Spending a little extra on special touches like luxury bedding, a plush sofa, and high quality kitchen equipment will make sure your guests are excited about their stay. This turns into repeat business and five star reviews, two of the best ways to build a successful vacation rental business in Canmore.
Want to learn more about investing in a vacation property in Canmore? We are here to help. Contact us any time to get started!