6 Tips for Designing the Perfect Patio
Posted by Devin Stephens on Wednesday, April 13, 2022 at 11:59 AM
By Devin Stephens / April 13, 2022
Comment
Whether you own a vacation rental, a mountain cabin, or a primary residence in Canmore, having a patio that you can enjoy is essential. Why would you own a home in a city with so much sunshine and not maximize your outdoor living space?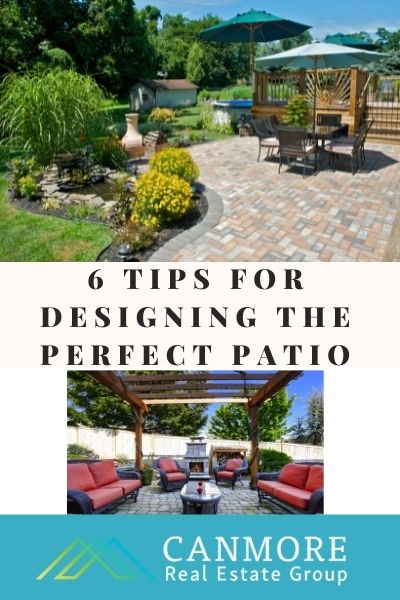 We have put together some tips for how to design the perfect patio, marrying form and function, to get the most out of your Canmore area property.
1. Think about how you will use the space
Before you begin, consider how you use your outdoor space now, or how you would like to use it. There may be multiple functions you have in mind, but it's important to clarify the purpose of the space in order to design it in a way that makes the most sense.
A few things you may want to use your patio for:
Outdoor dining
Entertaining
Reading, meditating, or other peaceful relaxation
Space for kids to play
Growing herbs or vegetables
2. Decide on your patio features
After you think about how you will use the patio, you can more easily list out what features you want it to have. These might include:
Dining table
Firepit
Comfortable seating
Entertaining features, like a bar or outdoor speakers
Grill or smoker
Flower beds or an herb garden
Sandbox, water table, or other kid-friendly features
3. Size matters
Look at the size of your existing patio (if you have one) and decide whether the features you'd like to include make sense in the space. You may want to set aside some of your budget to expand the patio, which can be done by pouring additional concrete, adding a border with bricks or pavers, or making a path to another patio area. There are plenty of DIY ways to expand your patio if you need more space!
If the space is sufficient, or even feels too large, think about breaking the large patio up into different "rooms" by designating one area for dining and one for a fire pit, for example.
4. Think about light and shade
As an avid vacation destination, Canmore and Banff is the perfect place to plan on enjoying your patio in all seasons. Along with this sunshine comes the need for shade and shelter, so don't forget to take this into consideration as you design your patio.
If your patio will not have shade from the house during the time of day you plan to use it most, consider budgeting for a patio cover, sunshade, or umbrellas to make the space as usable as possible. Perhaps a permanent covering to enjoy the patio even in the winter surrounded by a custom fire pit.
Related: How big should a deck be?
5. Pops of color
Add visual interest and seasonal appeal by incorporating colour into your patio design. This is the easiest thing to change as your taste evolves, trends shift, or a new season arrives.
Here are a few ways to incorporate pops of colour on your patio:
Cushions and outdoor pillows
Outdoor rugs
Potted flowers, herbs, or succulents
Water features with colorful pottery
6. Consider an outdoor kitchen
Depending on your budget and the way you plan to use the patio, an outdoor kitchen may be the perfect addition. For a budget-friendly option, consider building a faux built-in grill, with coordinated outdoor dishes and drink dispensers. If you're ready to splurge a bit more, a built-in grill, sink, and mini-fridge with an eat-in bar can add major value to your yard and take your backyard entertaining to the next level. An outdoor ice maker or wine chiller will add major elegance and function to your outdoor kitchen, too.
Planning the perfect outdoor living environment takes a little bit of planning and with our weather, all-season usage can be extremely valuable, both to you, the homeowner and if you're planning on selling in the future. For more information on Canmore homes, or all Banff and area real estate, contact us below at any time.