Buying a New Construction Condo in Canmore
Posted by Devin Stephens on Friday, September 22, 2023 at 1:51:15 PM
By Devin Stephens / September 22, 2023
Comment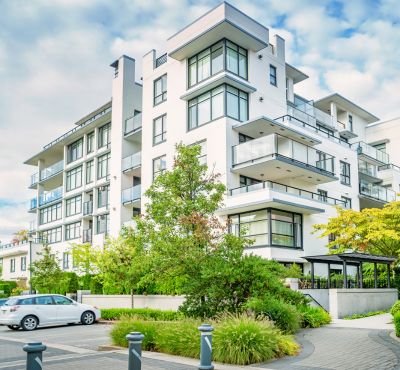 As more people recognize the value of investing in Canmore real estate and the demand for homes in the area increases, more new construction is taking place in the area to keep up with the demand. One of the primary ways we are seeing development take place in Canmore is with new construction condos, which tend to feature luxury amenities and a low-maintenance, comfortable lifestyle.
If you are considering a new construction condo in Canmore, this post is for you. Contact us any time with your questions, or keep reading for more information about preparing to buy a brand new condo in Canmore.
Location Matters
There are new construction condos being built throughout Canmore, so take the time to explore and determine your ideal location.
Canmore boasts a variety of neighbourhoods, each with its unique character and proximity to amenities. Consider your lifestyle and preferences when choosing the location of your condo. Do you want to be close to downtown shops and restaurants, or do you prefer a more secluded mountain setting? Or do you plan to leverage the condo as a short term vacation rental and need to keep that goal in mind as you choose your location? Research different neighbourhoods to find the one that best suits your needs, and don't hesitate to reach out to us for input.
Mountain Views
In a city as picturesque as Canmore, the orientation of your condo matters in order to take in the mountain views from your windows. When you purchase a new construction condo, you are likely to have choices between different locations within the condo building or community, so keep the views in mind. Determine whether you want a condo with direct mountain views or if you're more interested in privacy and seclusion. Additionally, consider the condo's orientation, as south-facing units may receive more sunlight. Whether it is for your personal home or an income property, the views are often worth the added investment.
Amenities and Features
As you decide between multiple new construction condo choices, pay attention to the amenities and features offered. New construction condos often come with a range of amenities and features. Identify your priorities. Do you want a fitness center, heated underground parking, a communal gathering area, or storage for outdoor gear? Make a list of must-have amenities to help guide your search.
Condo Fees, Reputation, and Requirements
Before selecting a condo, make sure you have a clear understanding of the fees associated and any rules or requirements. This is especially relevant if you have plans to use the condo as a short term vacation rental some or all of the time, as that may not be allowed by all of the developers you are considering.
Condo living typically involves monthly condo fees. These fees cover maintenance, utilities, and shared amenities. It's essential to understand the condo fee structure and budget for these ongoing expenses when evaluating the affordability of a unit.
Condo associations have rules and bylaws that govern the community's operation. Review these documents to ensure they align with your lifestyle and preferences. Some condos may have restrictions on short-term rentals, pet policies, and architectural guidelines.
Don't forget to research the reputation of the condo developer. Experienced and reputable developers are more likely to deliver quality construction and adhere to timelines. Check their track record and reviews from previous projects.
Understand the Construction Process and Your Warranty
Understand the construction timeline for the condo development. New construction projects can take several months or even years to complete. Ensure that the estimated completion date aligns with your plans and timeline. Before finalizing the purchase, consider hiring a professional home inspector to conduct a pre-construction inspection. This can help identify any issues or concerns before they become more challenging to address.
In Alberta, new construction condos often come with warranty coverage provided by the Alberta New Home Warranty Program. Familiarize yourself with the warranty terms and understand what is covered. Remember that even with an excellent warranty, you should also consider purchasing homeowner's insurance to more fully protect your investment.
Ready to learn more about investing in a Canmore condo? Contact us any time.