Canmore Fat Tire Biking – What's the hype about?
Posted by Devin Stephens on Wednesday, January 13, 2016 at 6:49 PM
By Devin Stephens / January 13, 2016
Comment
Try Canmore Fat Tire Biking This Winter And Get Hooked!
If you come to Canmore for a winter break, and perhaps head to the cross-country trails for a little bit of skiing, you will most likely come across a new phrase being uttered by the locals: fat biking. Up in Canada and the colder, northern climes, this term is on the lips of most keen bikers but it is still something of a mystery to those further south. Fat biking is growing in popularity and accessibility and there is no better time come and try fat tire biking in Canmore to see what the fuss is all about.
What is a fat bike and what makes it so special?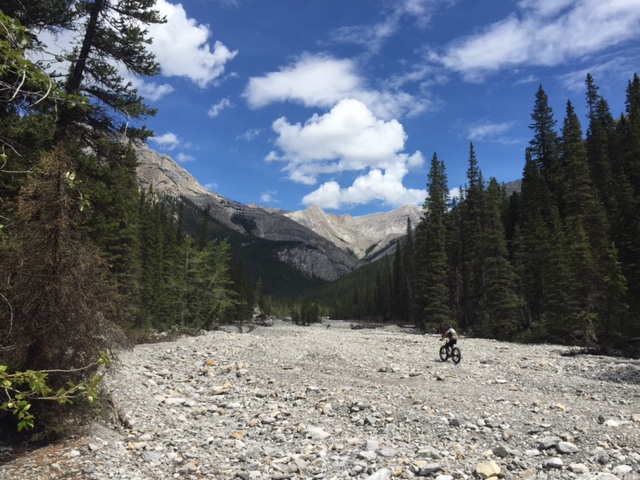 The first questions you will want an answer to are what is a fat bike and why would an obese model be so desirable over your lightweight, carbon-fibre trail bike. The more accurate name is fat tire bike, although many drop the 'tire' part for simplicity. The bikes are essentially your familiar mountain bike but with fatter tires, somewhere around 4 inches wide. Some also have adaptations to the frame and handwarmers but it all depends on the model. The point of these larger tires is that it means that these bikes can travel across more challenging surfaces, such as snow. It is just like putting on a snow-shoe, only much easier to move and much more fun.
Why are fat bikes so popular in Canmore?
The short answer is that they are so popular here because there is so much snow and so many opportunities to test out their capabilities. Many Alberta Parks have been adapted so that fat tire bike riders can enjoy the trails and this includes the Canmore Nordic Centre Provincial Park. There are many different routes and trails across Canmore, many of which are mapped out and marked with their designated difficulty level. The Canmore Nordic Centre route does require a pass, because it is used for cross-country skiing, but there alternatives out there.
There are simpler, flatter beginner routes around Bow Lake, for example, as well as more challenging routes for the more experienced. The Bow River Loop is a must for first timers, especially if you are new to Canmore because it is close to the downtown area, through Riverside Park, and offers great scenic views. The Quarry Lake route is also attractive with its varying scenery, although you may end up attracting the interest of local dogs in the dog park. Whichever route you choose, double check the maps and the need for permits to stay safe.
Where can newcomers rent fat bikes in Canmore?
If you are completely new to Canmore fat tire biking, the best place to start is renting one. The growing popularity of this sport means that there are many supplier of rental bikes in Canmore. Trailsports specializes in rentals for winter sports equipment of all shapes and size and offer fat tire bikes for a whole day for $55, although there is also a 2 hour option for first timers at $36. Bikes can be reserved ahead of schedule for larger groups to try out the sport for an afternoon. The bikes are also available from Outside Bike and Ski store or the more well-known Rebound Cycle. This company boasts "industry leading fat bikes from Salsa in a variety of sizes". Costs vary depending on the type of bike so check with the website before booking.
Trail Sports- Address: 2003 Olympic Way Canmore, Ab Ph: 403-678-6764
Rebound Cycle – Address: 902 8 St, Canmore, AB Ph:+1 866-312-1866
Outside Bike & Ski – Address: 1160 Railway Ave #110, Canmore, AB Ph:
(403) 675-7722
The best thing of all? Fat tire biking doesn't have to be limited to the winter months!
The problem with any new sport, especially one that involves two wheels and a new sense of adventure, is that the fad can quickly turn into an obsession. As a result, you shouldn't be surprised if you find yourself hooked on fat biking this winter and cursing the return of the warmer months. Do not despair though! The beauty of this new approach to biking is that it isn't restricted to the snowy slopes. The way that the bike handles the snow means that it is also well-suited to other terrain where mountain bikes fear to tread. If you try out fat tire biking and fall in love, the only thing left to do is buy one and see how it handles the sand over the summer.