Canmore's Luxury Real Estate Market: Is Now the Right Time to Invest?
Posted by Devin Stephens on Monday, September 28, 2020 at 11:51 AM
By Devin Stephens / September 28, 2020
Comment
The world has become a different place over the past 6 months. There are more people working from home than ever before. Meetings that were once held in person are now often being held over digital services like Zoom or Skype. For many people, the travel they did for work or pleasure has been minimized. Now, people are looking for ways to surround themselves with beauty, nature and a change of pace without leaving Canada. Fortunately for us, when we look to our own backyard, we do not have to look further than Canmore to find a world-class getaway. The luxury real estate market in Canmore has been booming as people look for a stunning primary or secondary home set amongst an incredible backdrop. But the big question: Is now the right time to invest in Canmore's luxury real estate market?
What qualifies as a luxury real estate property?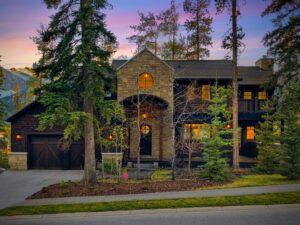 The definition of what a luxury property is changes throughout the world and in many ways is a personal choice. My version of a luxury home may not be yours, but there are some typical commonalities. In general, a luxury home offers an unparalleled level of quality, a prime location, maybe privacy and often a sense of magnitude and uniqueness. It typically refers to properties with high-end finishes, top-notch construction quality, a sense of refinement and exclusivity. This would typically bring these homes to the top end of the market.
The Canmore Market
27 homes sold for over $1 million in Canmore between May 1 and August 31. The average price of these was $1.464M with the range being from $1M to just over $3.9M.
Last year though that same time period, Canmore saw 17 homes sold with an average price of $1.389M.
Is now the right time to invest?
Is investing in a luxury real estate property right for you…especially right now?
When investing your money, you want to spend it on products that are able to hold their value. Even during a pandemic, Canmore was able to hold its value and realize a busy real estate season. However, as fall hits, we may see sellers willing to negotiate on their asking prices, hoping to close before winter.
Aside from the prices, there's another financial benefit to investing in a luxury Canmore property: the nationwide low-interest mortgage rates. With lower interest rates, buyers are able to take on a higher monthly mortgage. A luxury home will have a higher mortgage payment, but the lower interest rates will make that choice more comparable to purchasing a lower-priced home.
Even with the pandemic happening, Canmore's real estate market is still ahead of where it was this time last year. Between the fall season, low-interest mortgages, and the impact of COVID-19, Canmore is becoming even more appealing to those who are ready for a luxury home or getaway within Canada. You'll find amazing vistas, luxury homes, plenty of space and breathing room right here in the Rocky Mountains.
Featured Canmore Luxury Real Estate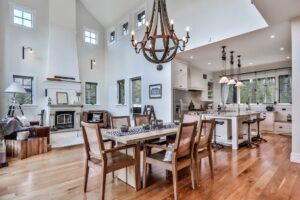 If you've been searching for the perfect luxury property, don't miss this listing we currently have at Canmore Real Estate Group. Located at 537 Silvertip Road in Canmore, this property is one of Canmore's finest homes. Painstakingly designed by the architects who own the home, this two-story masterpiece is the perfect investment for a buyer looking to embrace the mountain lifestyle while living in the lap of luxury. With the price recently reduced by $100,000, this may be Canmore's best-priced luxury home.
Complete with a round library, wide-open living spaces, a beautiful floating spiral staircase leading from the walkout basement through to the second level, and mountain views all around, this home creates the perfect harmony between indoor and outdoor living. With four bedrooms and four bathrooms, this Greystone mansion is perfect for families or those who enjoy entertaining and having visitors. To say it is the stuff stories are made of would not be an exaggeration as this incredible home has been written up in magazines highlighting both its design and the incredible finishes.
To learn more about this property, visit the listing page here or reach out to Canmore Real Estate Group. Our team is in the know about the newest luxury home listings. We would love to learn about what you are looking for in a property. For specific questions, reach out to Devin Stephens. With years of experience in the real estate world and in the Canmore area, Devin is the perfect resource to get you started on your home search. Contact Devin via email at [email protected] or give him a call at 403.688.7769