Christmas Activities In and Around Canmore
Posted by Devin Stephens on Friday, November 29, 2019 at 10:44 AM
By Devin Stephens / November 29, 2019
Comment
Winter is here. Even if you aren't a fan of cold or snow, it's hard to deny there is something magical about the month of December. Whether it's the fondness of childhood holidays, the anticipation of seeing loved ones, or simply a love for the twinkling lights that adorn homes and businesses, the Christmas season brings with it nostalgia and hope for the future. If you're a local looking for more out of the holiday season or a tourist hoping to make some wonderful memories, look no further! We've put together a list of Christmas activities in and around Canmore. Check them out this month and extend your holiday fun!
Canmore
Our town is full of events to put you in the Christmas spirit! Whether you are searching for music, adventure, or a simple trip down memory lane, look into the holiday events happening in Canmore this month.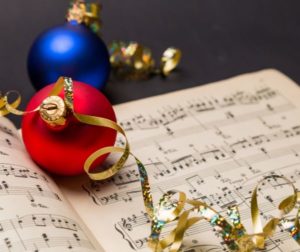 Enjoy an evening of live music by hummingBird at Studio b. With its relaxed atmosphere and cozy fireplace, you'll feel like you are being serenaded in your own living room. And conveniently enough, blankets and comfortable clothes are encouraged! The concert will be held on December 6 from 7:00-9:00 PM. Check out the link for information on tickets and pricing!
For a new spin on the classic movie, check out Theater Canmore's 1940s live radio play reenactment of It's a Wonderful Life. Tickets are $25, and available shows run on December 6, 7, 14, and 15.
Embrace the holiday spirit by visiting the Canmore Festival of Trees! It runs daily from December 6-31, and the Rotary Club as well as The Malcolm Hotel host special events throughout the festival.
If you're looking for lighthearted Christmas stories and a belly full of laughter, you'll want to catch Bridget Ryan's Christmas Cabaret! The Cabaret will run from December 10 through the 22. You can purchase a ticket for the show alone, or add in dinner!
Wanting to get a bit more adventurous with your holiday events? Check out Spirit in the Mountain, which runs each night from December 20-23. Hike deep into the Grotto Mountain for a magical concert experience. With four different performances with different groups, you won't want to miss out on this event.
Banff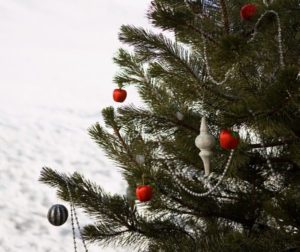 A quick ten minute drive from Canmore, the town of Banff is home to plenty of festive events as well! If you want to get out of town for a bit, check out some of these unique activities in Canmore's neighboring town!
Looking for family-friendly Christmas activities? Well, look no further than the Banff Gondola this season. With holiday activities ranging from cookie decorating, holiday movies, Santa visits, and crafting, there is something for everyone in the family to enjoy! The mountaintop Christmas activities run weekends through December 22 and pick up again from the 26-30. Check out their page for specific times and dates of activities!
Another all-ages show is the Carter-Ryan Productions' adaptation of Charles Dickens' A Christmas Carol. Enjoy the classic story through a new lense up until December 28. Be sure to check out the site for specific dates and ticket prices.
Kill two birds with one stone: Hit the slopes and snag a photo with Santa and Mrs. Claus as they tear up the powder! The Christmas couple will be visiting the Sunshine Village Ski & Snowboard Resort on December 14-15 and 21-22. So come wish Santa luck as he prepares for his big night in the sky!
Lake Louise
Although Lake Louise is a bit further from Canmore (about 45 minutes), this town also has fun Christmas activities happening in the area!
Take a visit to Brewster Cowboy's Barbecue and Dance Barn for fabulous country music and an enticing buffet. Relax and unwind on your sleigh ride to and from the barn and embrace western hospitality and tradition. Plan your trip carefully, as the Country Christmas Dinner is only happening on December 23, 26, 28, and 30!
New Year's Eve Activities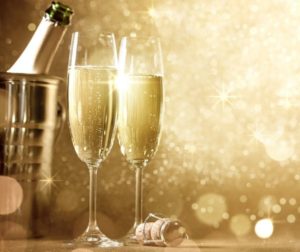 If you're staying in the area through the New Year, there are plenty of local events happening. Say goodbye to 2019 and hello to 2020 at one of these sure-to-please New Year's Eve bashes!
For a pre-midnight celebration, head to the Pond at Millennium Park. In true Canmore-esque fashion, you'll be spending your last evening of 2019 outdoors! There will be skating, bonfires, food vendors, and live music to kick of your celebration.
Dust off your best black-tie-affair outfits and head over to the Fairmont Banff Springs. With a sophisticated meal, live orchestra, and plenty of entertainment, this is your go-to destination for a fancy New Year's Eve celebration.
For a less formal (but just as fun) celebration, head over to Lake Louise Ski Resort. This year, they will be hosting their Rocky Mountain NYE party. You'll have the chance to night tube, fill up with delicious buffet, enjoy the cash bar, and dance the night away! Check out their page for ticket information and times.
Are you still looking for an amazing holiday rental? Or do you want to invest in property to relive the magic of the Canmore area Christmas season? We can help! At Canmore Real Estate Company we embrace the holiday spirit and the importance of the season. We will do everything we can to point you in the right direction, whatever your objective may be. Reach out to Devin Stephens, a seasoned real estate agent in the Canmore area. Devin has the knowledge and expertise to answer any of your questions. He would be happy to guide you toward finding the perfect location and activities for you and your travel companions. Contact Devin at 403.688.7769 or reach out via email at [email protected].