Dogsledding in Canmore!
Posted by Devin Stephens on Friday, January 5, 2018 at 4:10 PM
By Devin Stephens / January 5, 2018
Comment
Get Your Mush On! Everyone Should Try Dogsledding.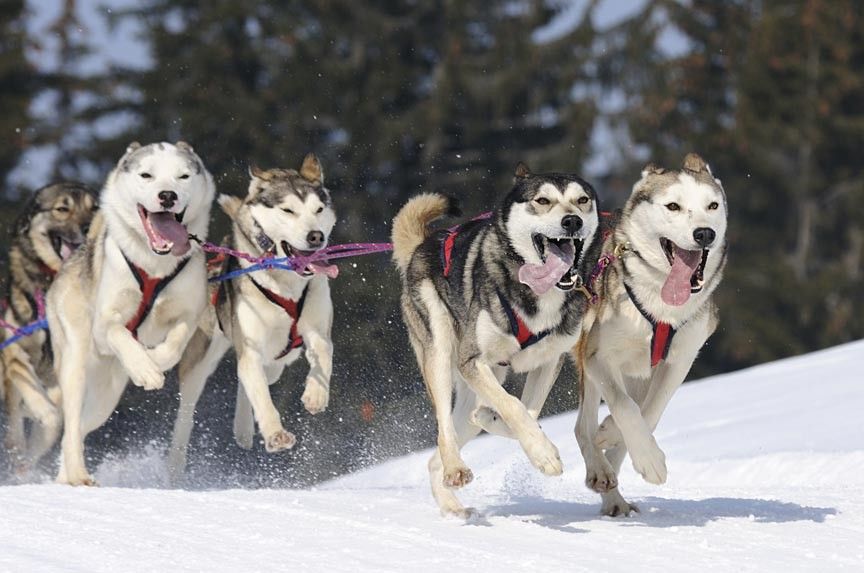 Archaeological evidence suggests that for over 4000 years, dog power has been used by man. Originally, it was used as a means of transport by the Canadian Indians and the Inuit peoples of the Canadian Arctic. By the late 1800's the Royal Canadian Mounted Police used dogsleds for both transport and patrol. Today, dog sleds are also used for recreational purposes. It is an amazing way to experience the Canadian Rockies, and one you are sure to remember!
It's What These Dogs Love to Do
When you first arrive to meet your Musher, spend a little time and get to know your dogs. Traditionally, Siberian Huskies, Alaskan Malamutes and Alaskan Huskies, (a cross between a Siberian Husky and an Alaskan Malamute) are used to pull the sleds. These dogs bred to pull a sled, and many start training from young pups.
Enjoy All it Has to Offer
You will see and hear the excitement that starts to build as you prepare to go.
It starts with a few barks of anticipation. Soon, the howling and yipping take over as the entire team joins in. When the Musher releases the brakes, silence ensues as the dogs lead you off on a marvellous adventure! Experience the stillness of a snow-covered forest with only the patter of paws on the soft snow or be awed by the vast expanse of a snow-clad lake. If you are lucky enough to have a full moon during your visit, inquire about night tours for a one of a kind experience.
Your Musher is a great source of knowledge as they can teach you about the history, techniques and subtleties of dogsledding. Some tours will even let you Mush your own team!
This unique experience offers moments of what seems like chaos as well as beautiful tranquility. Dress in warm layers for this classically Canadian activity! Silk, wool or synthetic wool are good options. Be sure to have snow pants, a warm jacket, boots, scarf, hat and good gloves. Don't forget chapstick, sunscreen and sunglasses! This is a "must do" for any traveller, but especially for dog lovers!
Listed below are some of the Canmore and Banff Dogsled Tours: