Enjoying Canmore in the Winter
Posted by Devin Stephens on Monday, December 4, 2017 at 4:14 PM
By Devin Stephens / December 4, 2017
Comment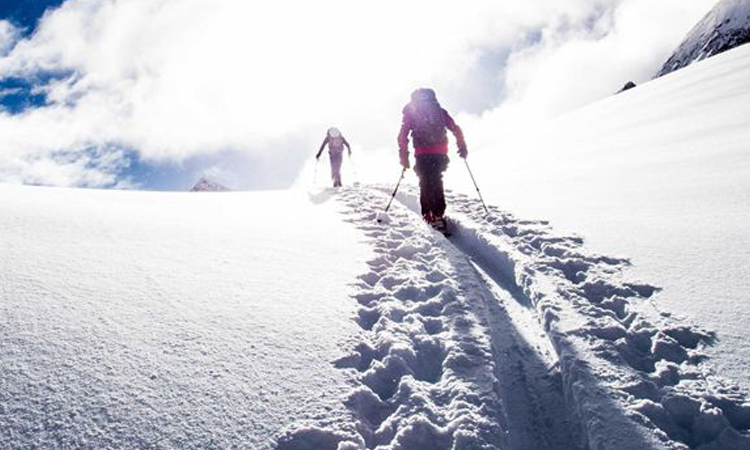 If you have never been to Canmore, you are in for a treat! This vibrant town nestled amongst the grandeur of the Rocky Mountains is a hidden gem! Some may think this little town would become sleepy under the crisp air, short days and long nights that winter brings but I would suggest that the list of things to experience is only limited by your thirst for adventure. Canmore is located in the midst of one of Canada's most beautiful outdoor playgrounds with activities for all ages and adventure levels.
Is downhill skiing or snowboarding your thing? There are four world-class ski resorts within a short drive of Canmore. Ski season usually starts around mid-November and ends around mid-May – weather dependent. Check out conditions and plan to enjoy the powdered snow at Banff's Sunshine Village, Mt Norquay, Nakiskaor award winning Lake Louise. Whether you are looking for a gentle slope or an exhilarating ride, everything you want is within reach!
Experienced skier or boarder looking for even more of an adrenaline rush? Want to off-trail ski or board in powder that's never been skied on? Try Heli-skiing or Heli-boarding and enjoy a combination of long descents, steep slopes, natural terrain and old forest growth – it's hard to find more adventurous skiing than this!
How about you cross-country enthusiasts? Canmore boasts the Canmore Nordic Centre. Offering more than 65 km of groomed machine made and natural trails that are suitable for both classic and skate techniques. In the middle of this trail system sits a beautiful meadow , accessible by all levels of skiers, where you have spectacular views of Canmore, Bow Valley and the surrounding mountains! There are even lit trails for those beautiful, moonlit evenings.
Rather than going up the mountain, how about going under it? Take a guided tour of the natural 4km Rats Nest Cave under Grotto mountain. Ancient glacier meltwaters created this amazing experience. The cave sits at a balmy +5C all year round. No experience is needed but you do want to be relatively fit!
Sometimes the best way to enjoy your surroundings is just to slow down and experience the wonder that surrounds us! What better way to do that than by snowshoeing! Enjoy a guided snowshoe tour or try one the local trails. These can range from beginner trails such as Troll Falls Snowshoeing Trail to longer, more difficult trails such as Goat Creek Snowshoeing Trail.
When you are in Canmore, a Husky is more than just a pretty dog face! They can also be the key to a fantastic adventure! Feel your heart race and the adrenaline rush through you as you try dogsledding! You can enjoy the tour from the warm confines of the sled or learn how to handle a team of dogs. Want something unique, or maybe even romantic? Try a night tour on a moonlit night!
Still can't get enough of the great outdoors? Why not try Ice Climbing? The Canadian Rockies are thought of by many to be the best ice climbing in the world! No experience is necessary! Or take a Basic Ice Course and learn the skills and equipment needed to venture into this exciting activity!
The scenery takes your breath away, the people, friendly and the list of adventures awaiting you….endless! You may have come to Canmore to ski, but we think you will want to try so much more!