Fall Home Maintenance in the Mountains
Posted by Devin Stephens on Friday, October 2, 2015 at 7:54 AM
By Devin Stephens / October 2, 2015
Comment
The leaves are yellow in the Bow Valley and the larches have turned, it is time to get your home ready for winter and plan ahead. Seasonal home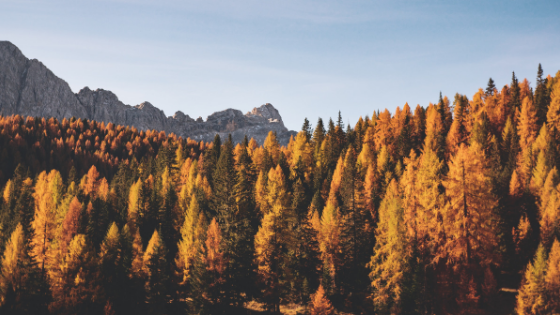 maintenance is necessary if you wish to keep your home at its best. Plus, this helps avoid costly repairs and maintenance in the future. As many of you local Canmore/Banff residents know, the mountains have the power to bring snow at anytime. Don't get caught off guard, I have provided some tips for you for fall maintenance so that you can plan ahead like me.
Roof and Gutter Inspection – When summer is over, you should get someone to remove all the debris and leaves from the gutters and downspouts and have it inspected for water runoff. You can consider putting in leaf guards so that water is directed away from your home. This avoids possible leaks. Check your roof for misplaced tiles and replace them, as well as, shingles.
Prevent Drafts – Your next concern should be given to the inspection of doors and windows. Do you detect any drafts? If so, add in weather stripping and repair any broken doors or windows. If you don't do this, expect high energy bills. Proper insulation ensures that your home keeps the cold away which means your heating cost will reduce significantly.
Consider your Fireplace – The last time you used your fireplace would be approximately 6 to 7 months ago. So, check this out before winter is on your shoulders. You may require the help of a professional chimney sweep. Get rid of old ash and ensure the damper is closed securely. Cap the chimney to prevent any animals from getting into your home. You may be benefited by considering an electric fireplace. They are as good as the natural fireplaces and come with energy-saving benefits.
Filters and Hot Water Heaters – If you don't have an energy-efficient water heater, its time you did. If not, your bills could be exorbitant. Take the time to drain your hot water tank as this prevents rusting. Replace the filters of your heating system and other vents.
Smoke Detectors – This, of course, should be done regularly, irrespective of the seasonal changes. Replace the batteries in all your smoke detectors and ensure that they work properly. Check fire extinguishers for expiry dates and replace if needed.Now you have a few tips on maintaining your home for the upcoming cold months ahead. You really need to take a look at all these come end of October at the latest. Doing so will save you money and aggravation.
Before the weather turns cold there are a number of home checks and maintenance tasks that homeowners should be carrying out to avoid potentially expensive problems once all the leaves have fallen. Here is a simple fall checklist that every homeowner should keep in mind as they prepare for the winter.
Inspect your Windows
Leaky windows can drain a great deal of energy from your home in the winter. Fall is the time to check your windows for air leaks, damaged caulking and ill-fitting glass. It is also the right season to install new weather-stripping around all the doors in your house to prevent drafts and help lower heating bills.
Schedule a Health Check for Your Heating System
Call your HVAC company now to schedule an inspection of your heating system. Better to discover any minor problems now and have them repaired than end up waiting for days in a freezing cold home because the HVAC companies in your area are swamped with similar complaints.
If you also have a fireplace with a chimney it is time to have that professionally cleaned and inspected as well.
Attic Inspection
Go up into your current attic now and provide it a good once over prior to the temperature drops. Make certain that your attic insulation isn't obstructing vents as that might lead to ice dams that may cause serious harm to your roof in the winter months.
This is also a good time to make sure that the attic is adequately sealed to make sure that the cold – and vermin looking for a winter home – can not get in.
Canmore Investment Properties
It will be burdensome and expensive on your part if you shoulder all the expenses. That is exactly the reason why there are some responsibilities left for the proprietor and some minor home maintenance tasks are left for the renter. Fortunately, there are several things that you can do to help keep the costs to a minimum as much as possible.
These tips are especially useful if you have recently bought a Canmore Vacation property as an investment. you definitely do not want your expenses to go beyond how much the tenants are paying for their rent. With this kept in mind, the following are some tips to help you save money and time.
1. Electrical inspections – Hiring professional and reliable electricians to do some inspections should be done at least once a year. This ensures you that all the cables and circuits are insulated to prevent any fire hazards and electrocutions. This is also a better and safer idea if you are supplying electrical appliances to your tenants as they move in.
2. Checking detectors and alarms – Even if you have just finished the electrical inspection, you still will want to make ensure that the smoke alarms and carbon monoxide detectors are working properly. In case of fire, these devices are especially helpful in minimizing damages by alarming the people as soon as possible.
3. Foliage – The plants that grow within your property are part of your responsibility. Although you are not entirely responsible for the garden that your tenants grow, pruning the branches and getting rid of any fallen leaves is your job to prevent pest infestation and moisture damage.
4. Grouting – The grouting between the bathroom and kitchen tiles will disappear and fester in time. Ignoring this will only lead to serious damages in the future. Thus, you should find time to have the tiles grouted regularly or when necessary.
5. Gas appliances – You need to conduct a safety check carried out by a registered accreditation company to ascertain that the vicinity lives up to the recommended gas rating in your locality.
6. Drains – Regularly inspecting gutters and drains should be carried out lest you want water and mold damage to haunt you.
7. Roofs, chimneys, and fireplaces – The roof should be checked for loose tiles and broken shingles. The chimney and fireplace should be rid of creosote and soot to prevent fire hazards and other damages.
8. Heating, ventilation, and cooling systems – The property's main heating, cooling, and ventilation system should be checked at least once a year for necessary parts replacement and repairs.
I hope these tips can help to save you some money and headaches this winter!