Fall in Canmore and Banff
Posted by Devin Stephens on Wednesday, August 24, 2022 at 6:22 PM
By Devin Stephens / August 24, 2022
Comment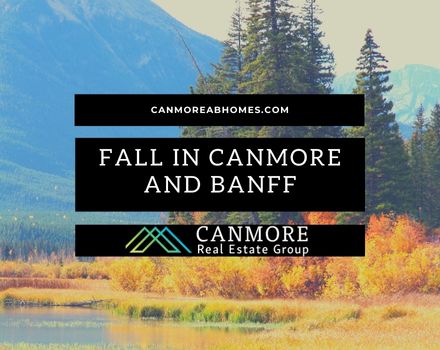 Any time of year, Canmore and Banff are full of beautiful ways to enjoy the Canadian Rockies, have your breath taken away by natural beauty, and relax in a cozy mountain setting. If you are planning your trip for this Fall, check out our list of some of our favorite things to do in the Autumn weather in Canmore and Banff.
Fall Weather in Canmore and Banff
While the temps do begin to drop, it's nothing too drastic to get out and enjoy the breathtaking scenery. You can expect temperatures between -7 and 17 degrees celsius in September, October, and November. With a good jacket and the right shoes, you won't have to miss out on anything just because the season is changing.
With those cooler temperatures comes an awe-inspiring change in colors, with vibrant Fall foliage everywhere you turn. A hat and jacket are a small price to pay for the natural beauty; come see for yourself.
Hike Ha Ling Peak
No list of things to do near Canmore and Banff is complete without some hiking. Of course there are nearly endless opportunities to hike in the area, but one of our favorites is Ha Ling Peak. This challenging scramble is best for experienced hikers, but results in some of the best views in the world.
Once you reach the top, you can expect cold gusts of wind, so dress in layers to stay comfortable. This is one of the most popular hikes in the area, so if you'd like to avoid the crowds, plan to leave early.
Hike East End of Rundle
Another favorite Fall hike in the Canmore and Banff area is East End of Rundle. Just a short drive up a gravel road from Downtown Canmore you will find the trailhead. The 5.6 kilometre trail rises 900 metres in altitude, so though it is relatively short it still presents quite the challenge.
At the top, every drop of sweat will be worth it when you enjoy impressive views of Ha Ling Peak, the town of Canmore, and Whitemans Pond.
Take a Run on Policeman's Creek Boardwalk
Policeman's Creek Boardwalk is accessible from Downtown Canmore, as it meanders through town. This is the perfect place to take a walk or a run. The boardwalk is about 4 kilometres, and is the perfect place to enjoy the crisp Fall air to start your day.
Winding along the Bow River, you will likely catch sight of a variety of birds and other wildlife, so it's also a great place for photography or nature study.
Explore Downtown Canmore
Downtown Canmore is always beautiful, but with the backdrop of The Three Sisters and the vibrant Fall foliage, it is really something special. Take some time to wander downtown, where you will find unique shops and restaurants to visit.
As an extremely walkable downtown area, don't worry about having a car. Just spend some time checking out the coffee shops, bars, restaurants, art galleries, and shops in a picturesque mountain town.
Take a Day Trip
If you're staying in Canmore or Banff, there are plenty of places to explore with a quick trip that are near enough to be back home by the end of the day. Check out the Mountain Mist Hot Springs, one of the area's best kept secrets. You will take a challenging, steep hike that takes about 2 hours, and then relax in natural hot springs that are about 32 degrees celsius. The views alone are worth the hike, but relaxing in the hot springs truly takes the cake.
Another great day trip option from Canmore is Kananaskis County, just south of Canmore. The drive will take you just an hour or two, and opens up the opportunity for many more hiking and mountain biking trails.
Want to learn more about vacationing in Canmore? We can help you find your dream vacation home. Contact us any time to find out how we can help.