Festivals in Banff
Posted by Devin Stephens on Tuesday, August 2, 2022 at 10:29 AM
By Devin Stephens / August 2, 2022
Comment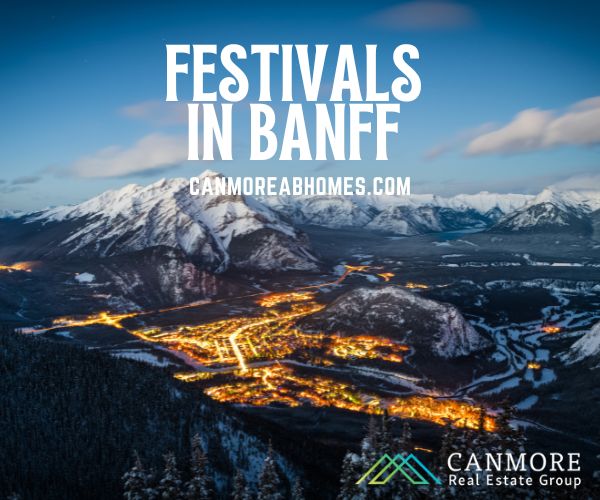 Banff National Park is known for hiking, fishing, backpacking, kayaking, and just about every outdoor adventure you can imagine. But did you know it's also host to many festivals throughout the year?
Whether you visit during the summer or the winter, you can plan your trip around a local festival and make lifelong memories. Banff is a mountain paradise offering you all the excitement you can hope for in a vacation, against an unbelievably breathtaking backdrop.
Check out our list of some of the best festivals in Banff to get started on planning your trip. We won't be surprised if you fall in love with the area and decide it's time to invest in a vacation home of your own here!
Banff Mountain Film and Book Festival
In 1976, a small, one day film festival took place in Banff to highlight a collection of climbing films. What started nearly 50 years ago has now become the Banff Mountain Film and Book Festival, taking place every November and a highlight of the year for fans of outdoor adventure.
For 9 days, serious mountain lovers enjoy over 840 screenings that showcase mountain adventure experiences, remote cultures, wild places, and mountain expeditions. Taking place in The Banff Centre, there are multiple theaters and venues hosting various events, ranging from full length films to live speakers to musical entertainment.
The November festival is known to sell out, so don't wait to get your tickets.
Canada Day Celebrations in Banff National Park
Looking for a perfect place to celebrate Canada Day this July 1st? Consider the Canada Day Celebrations in Banff National Park. The family friendly festival features a parade down Banff Avenue, live music, balloon animals, a birthday cake for Canada, and more.
Whether you are looking to learn from a speaker highlighting a cultural component of Canada, enjoy fun family time with classic games like spoon races, shop at the artisan craft and food vendors, relax while you listen to live music, or let the kids burn their energy off in the bounce houses, you will find it at the Canada Day Celebrations in Banff. And don't miss the impressive fireworks display at the end of the night!
Ice Magic Festival
The Ice Magic Festival in Banff take place at beautiful Lake Louise each January. It may be ice cold, but you won't mind a bit as you stroll around the impressive displays of ice art.
Twelve teams of professional ice carvers compete at The Fairmont Chateau Lake Louise, and the contest is sanctioned by the National Ice Carving Association (NICA). The teams of two each receive 15 three hundred-pound blocks of ice, from which they must create 7 feet tall sculptures in just 3 days.
The event also hosts a speed carving event, in which a block of ice is carved in just one hour with a chainsaw as guests watch. If you've never seen this before, it's something you won't want to miss.
Bring your kids to The Little Chipper festival taking place at the same time in the Samson Mall in the Lake Louise Village. The art and culture of ice carving is displayed in an engaging way to spark the imagination of children and adults alike.
Banff WinterStart Festival
As temps drop, residents of Banff don't have to go into hibernation. They know many of their favorite activities are about to begin. The Banff WinterStart Festival celebrates this excitement at the beginning of winter in late November or early December each year, with a wide variety of activities to ring in the winter fun.
Guests of the festival enjoy a parade, the World Cup Ski Races, the Lake Louise Winterstart World Cup Downhill, musical performances, film screenings, Christmas socials, and family friendly events complete with face painting, Santa and theatrical performances.
To learn more about the unparalleled lifestyle enjoyed by residents of Banff, contact us any time. We would love to help you find your home in one of the most beautiful places in the world.