High Tech Home Upgrades to Save Money and Energy in 2023
Posted by Devin Stephens on Thursday, May 18, 2023 at 3:12:30 PM
By Devin Stephens / May 18, 2023
Comment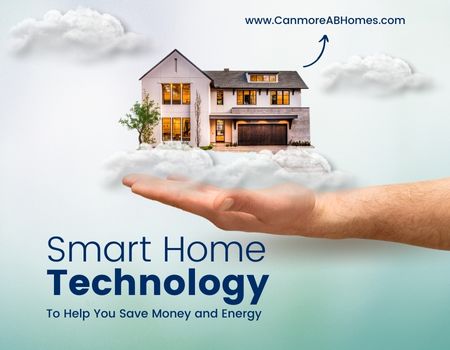 Technology for the home can save you money while making your home more energy efficient, adding value in more ways than one. If you are looking for home improvements you can make that offer a dynamic return on investment, consider one of these high tech home upgrades.
Looking for homes for sale near Banff? We can help. Contact us any time to learn more.
If you have already found a home you love, these smart home features might be a great addition to it.
Water Efficiency Tools
Living near such breathtaking natural beauty in Canmore and Banff, it is easy to remember the importance of conserving natural resources. By adding water efficiency tools to your home, you can more responsibly manage the water use in your home. Some of these options include:
Low flow showers
Tankless water heaters
Water recycling for irrigation
Smart faucets, toilets, and more to automatically shut off if a leak is detected
Wifi enabled sprinkler systems that adjust watering based on rainfall in the area
Appliances
Replacing appliances can be a major investment, so it may not feel like something that will save you money. However, over the time the presence of energy efficient appliances will save on utility bills while being a more responsible use of resources. If your home is already in need of a new appliance or two, opt for an energy efficient choice. Most appliances on the market today are energy efficient, and those small changes add up to make a big difference.
Smart Thermostat
Smart thermostats can be controlled from your personal devices via an app, which means you can adjust the indoor temperature at any time. The device will also learn your preferences over time to efficiently keep the climate comfortable inside.
If your home in Canmore or Banff is a vacation home or an income property, you can control the thermostat to turn on the air conditioning or crank up the heat shortly before you or your guests arrive. This allows you to keep the temperature comfortable without using any energy when no one is in the home.
Smart Lighting
Consider upgrading your light fixtures and window coverings to work with a smart lighting system. This way, you can control your lighting from your phone, checking to make sure that all lights were turned off when you left the house or after you have gone to bed to make sure you avoid unnecessary energy usage.
Smart window coverings can also save you money and energy. Set your smart blinds to close during the hottest part of the day to avoid letting the sun raise the temperature in your home and use more energy than necessary cooling it. The opposite strategy can be used to warm the home up during winter months.
Solar Panels
Depending on the location of your home and the sunlight you can access from the roof, adding solar panels may be a worthwhile investment. Talk to local solar companies to get a few free quotes to find out whether harnessing energy from the sun might be a great way to offset energy expenses for your Canmore home.
Ready to begin searching for a home to make your own in Canmore or Banff? Contact us any time.