How I Designed My Dream Modern Mountain Home
Posted by Dale Hildebrand on Wednesday, November 4, 2020 at 12:26 PM
By Dale Hildebrand / November 4, 2020
Comment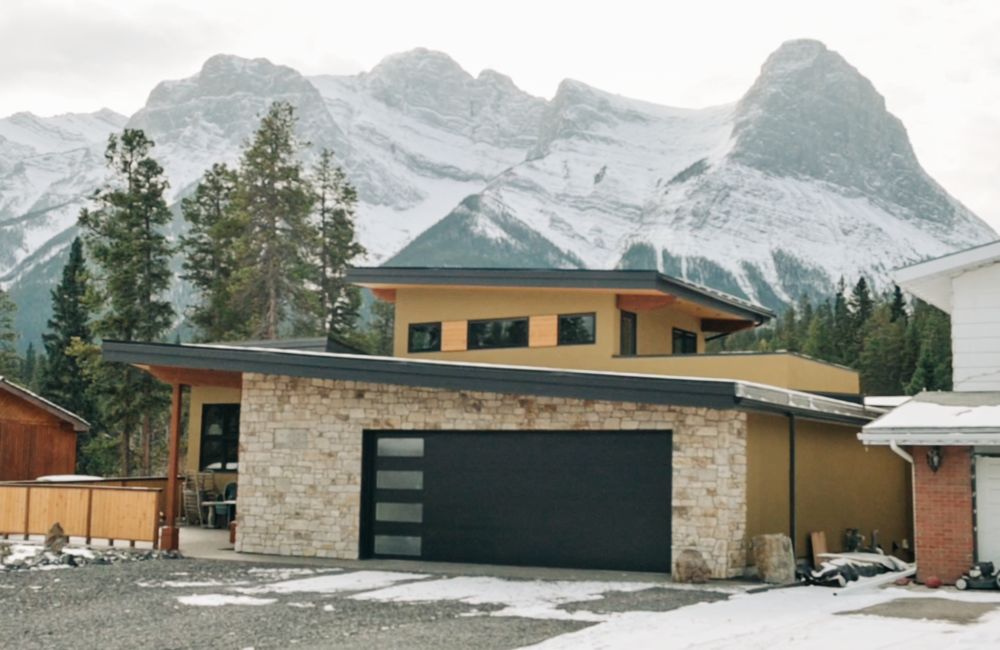 As a luxury modern mountain home developer in Canmore, I've experienced the process of helping customers create their dream homes. Recently, I went through the process with my wife of designing a home specifically for our current, and future, lifestyle. Located within the heart of Canmore, we've named our new home 4Peaks, after the four mountains that you can see from the house – Ha Ling, East End of Rundle (EEOR), Lady MacDonald and Grotto.
I've been asked many times, how did 4Peaks become a reality? Let me take you through the process.
Lifestyle
Reflecting on your lifestyle is vital to creating your dream mountain home. For my wife and I, we were looking for a home that suited our active lifestyle, from biking and hiking to skiing and snowshoeing. We were looking for something that would be great for entertaining guests, but wasn't high maintenance, allowing us to travel as we wished.
Each aspect of your life helps inform your custom build. It allows you to create space for what you need, and allows you to cut out what you don't. As you will see throughout this process, we come back to this a lot.
Location
After reflecting on your lifestyle, it's time for you to choose a location that will allow you to live that lifestyle best.
When we were younger, my wife and I owned a lakeside property, as we enjoy water sports like boating and sailing. However, when we got too old to water ski more than 30 minutes a day, we decided to move to Canmore full-time. For us, it offers all the opportunities for activities that we love, as we start getting older.
As the saying goes "I came to Canmore for the mountains, and stayed for the people." For us it's not just the mountains, it's the community. It isn't hard to see why living in Canmore would be incredible from the outside, with the mountains in your backyard and nearly endless outdoor activities. But it's the people that live here that make this mountain town second to none.
Design
Once you've picked your location, it's time for design. Everything starts with a design that fits the property and your lifestyle. I can't imagine buying a set of house plans and fitting them onto a Canmore lot. Every mountain home should be designed to maximize the value of the lot, including the solar gains to be as energy efficient as possible, the views and respect for the existing landscape and neighbours.
Your home should reflect those who inhabit it, and what they value.
As an engineer and woodworker, I wanted a home with modern style and use of traditional materials. We opted for a fir glulam post and beam home. Glulam is stronger than traditional fir posts and beams, and is more environmentally sustainable. For energy efficiency we have a tight building envelope, triple glazed windows, a central boiler and concrete floors to hold the heat. For style, we hired one of Canmore's best interior designers and were not afraid to move away from traditional colours.
At Arbus Mountain Homes, we believe that if you have less than five design iterations, you likely have not spent enough time thinking it through. Great designs are not cheap, but well worth it.
Layout
Going hand-in-hand with design is your layout. It is imperative to create a floorplan that fits how we live.
Important questions to address:
Where do you spend most of your time?

How will you age in place?
At 4Peaks, we like to entertain, with lots of visits from friends and family. We spend a lot of time in living and entertaining spaces. We both work from home most of the time, therefore we prioritized having a place where each of us work. We're also very active, and need storage for all the outdoor gear.
With all of that in mind, we made a goal to create a floorplan that would last us into retirement and beyond. To achieve that we focused on creating a layout that had primarily one-level living. To accommodate for the inevitable, we installed an elevator, for both functionality and future safety.
It was a process, but worth every minute, and every drafted layout. 4Peaks is a house that I plan to call home for the rest of my life. Building a luxury custom home can come off as both intimidating or overwhelming. But it doesn't have to be. Let us help you create a modern mountain home that best suits you, and your lifestyle.