How to Attract Higher-Paying Guests to Your Canmore Vacation Rental
Posted by Devin Stephens on Friday, August 11, 2023 at 10:17:36 PM
By Devin Stephens / August 11, 2023
Comment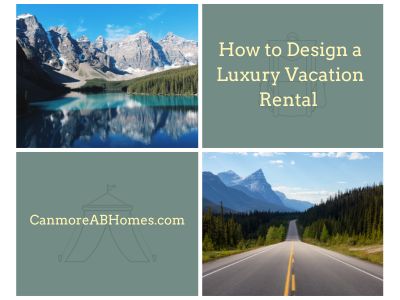 As you prepare to invest in a Canmore vacation rental, you will be calculating your ROI and the expected nightly rate for your property. One of the best ways to strategize for a lucrative investment is to design your vacation rental in such a way that it attracts guests who are looking for a luxury experience and willing to pay more for it.
Finding the right property to buy for your luxury Canmore vacation rental is the first step, and that's where we come in. Contact us any time to get started on the search for vacation rentals for sale in Canmore.
To make your Canmore vacation rental more attractive to luxury guests, consider these tips.
Premium Interior Design
Invest in upscale furnishings, decor, and finishes that exude luxury. Choose quality materials, stylish furniture, and elegant decor items that create a sophisticated and comfortable ambiance.
Offer high-thread-count sheets, plush towels, and luxurious bedding for a comfortable and indulgent sleep experience.
Transform bathrooms into spa-like retreats with rain showers, deep soaking tubs, high-end toiletries, and soft robes.
Supply premium toiletries, luxury bath products, and high-quality amenities that align with the luxury experience.
The extra attention to detail that you give to furnishing and design will allow you to justify a higher price point and attract the guests who are looking for this high-end experience.
High-End Appliances and Amenities
Equip your vacation rental with top-of-the-line appliances, such as gourmet kitchen appliances, premium coffee makers, and smart home technology. Offer amenities like heated floors, private pools, hot tubs, and high-speed internet.
You can also look for ways to implement amenities and entertainment that will set your rental apart from comparable rentals in the area. While many Canmore visitors are there for the many attractions in the surrounding area, they still want a luxurious experience when they return at the end of the day. Consider adding a luxury feature like:
Built in outdoor fireplace
Gourmet kitchen (indoor or outdoor)
Game room with retro arcade games
Home theater
Luxury Guest Experience
Make your vacation rental stand out among others, offering your guests an experience they would expect from a luxury resort. Provide a personalized welcome experience that includes a curated welcome basket, champagne, fresh flowers, and locally sourced treats. Consider a handwritten note to make guests feel truly valued.
You can also consider additional amenities, like a concierge service that can be provided to streamline the vacation planning process for your guests or laundry service available at the midpoint of the stay. Another popular luxury option is offering a private chef service as an add-on for the stay. Consider offering custom experiences, such as arranging private tours, wine tastings, or exclusive access to local attractions.
Privacy and Security
Guests who are willing to pay more for their stay are often those who require more privacy and discretion, including celebrities or other high-profile guests. They also may be traveling with valuables that they want to be confident are safe.
With this in mind, ensure the property offers a high level of privacy and security. Install advanced security systems and provide secure entry options for guests, depending on smart home technology to create a convenient and secure experience.
Premium Marketing
Before you can wow your guests with your carefully selected furnishings and amenities, they need to find your vacation rental in the first place. Well executed marketing is key to stand out to your ideal guest.
Market your property through professional photos, videos, and a well-designed website that conveys the luxury experience. Leverage social media and travel platforms that attract luxury travelers and don't depend on one vacation rental platform to attract your ideal guests.
Ready to start the search for your Canmore investment property? Contact us any time.