How to Make Your Vacation Rental Stand Out
Posted by Devin Stephens on Friday, September 23, 2022 at 1:50 PM
By Devin Stephens / September 23, 2022
Comment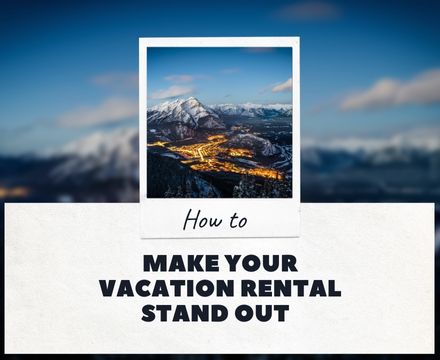 Investing in a vacation rental in Canmore is one of the best decisions you can make, adding a valuable asset to your portfolio. When you own a vacation rental, you enjoy the benefits of having a vacation home or second home, while covering the cost of the property through rental revenue.
One of the keys to making sure your vacation rental in Canmore generates enough revenue to be profitable is making it stand out from competition. As one of the best places to vacation in Canada, Canmore has quite a few vacation rentals in the area that compete for the attention of the ideal rental guests.
To make your property stand out from the crowd, keep these tips in mind.
Hire a Professional Photographer
Virtually every guest you have will decide on whether to rent your property based on online photos. This means having a high quality set of photos of the vacation rental is the best way to attract your ideal guest and convey the value of the property.
Prepare your property for a photo shoot in a similar way to how you might stage a home before photographing it for a real estate listing. You want to highlight all the features that make your property unique and comfortable, showing each bedroom and bathroom, the living space, the kitchen, and any unusual features like a large patio, game room, hot tub, smart home technology, or luxury bedding.
Before taking photos, make sure everything is thoroughly cleaned and decorated, with as much natural light pouring in as possible. Hiring a professional photographer in your area will go a long way toward putting your rental's best foot forward.
Write a Thorough Description
When you go to list your vacation rental online, a good description is essential. Aim for concise, but thorough. Make sure to note how many people can comfortably sleep there, how far it is to favorite local destinations, what the parking situation is, what type of kitchen equipment they can expect, and if there are any special instructions or services associated with it.
Describe what makes your vacation rental special. Maybe it's the aesthetic or the views; maybe the property is walkable to downtown Canmore. Whatever drew you to buying the property in the first place might be a great feature to highlight.
Wow Your Guests
Even after you have gotten a guest to make a reservation, your job to win them over is not done. Take the time to add in special details, like a welcome basket with candies, a list of your favorite local restaurants, and easy directions for thermostats and TVs in the rental. Make sure not to cut any corners when it comes to cleaning and prepping for new guests to arrive.
One of the very best ways to make your vacation rental stand out from the crowd is to build up a treasury of 5 star reviews. This only happens when your guests have an outstanding experience. The little details that take your rental from fine to fabulous are worth all the effort and pay off tenfold in the future.
For more information about investing in a vacation rental property in Canmore, contact us any time!