How to Manage a Vacation Rental Remotely
Posted by Devin Stephens on Thursday, April 27, 2023 at 1:09:27 PM
By Devin Stephens / April 27, 2023
Comment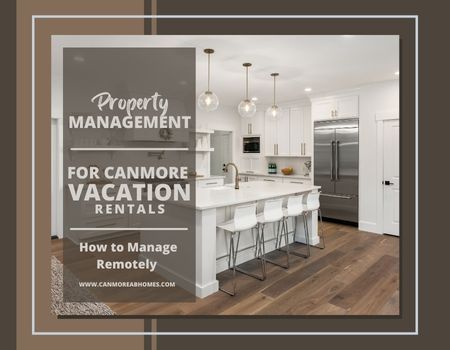 Canmore is an ideal market for a vacation rental property, with steady demand from tourists in all four seasons. It comes as no surprise that Canmore is one of the best places to invest in a vacation rental in Canada, with Banff National Park attracting travelers from around the globe and access to an international airport just an hour away in Calgary.
If you are ready to begin the search for vacation homes for sale in Canmore, we can help. Contact us any time. To develop a strategy for managing your vacation rental remotely, consider some of these tips.
Automate Check-In and Check-Out
One of the keys to running a vacation rental is leaning on smart home technology to make your process more efficient. There are many ways you can outsource some of the day-to-day management tasks associated with a vacation rental to a smart home device.
Smart locks are one of the top ways to do just that. Streamline the check-in and check-out process by eliminating the need for keys. A smart lock provides a variety of benefits, including:
Increased security because you can "change the locks" between every guest, housekeeper, and contractor by changing the key code
Eliminate the possibility of lost keys, and the inconvenience and expense they cause
Make it easy to remotely provide access to anyone who needs to get into the property, like a handyman or housekeeper
Consider a Local Property Manager
While many things can be handled remotely, thanks to technology and smart home devices, you may want to consider hiring a local property management company to collect payment, address after hours concerns from guests, or provide a full service management. Consider the amount of time you are prepared to spend managing the property and ask for some quotes from local companies to weigh your options.
Invest in a Security System
Security systems are important for any vacation property, but particularly if you will not be in town and the rental may be left vacant from time to time. Invest in a high quality security system with video surveillance that can be accessed from your phone to provide peace of mind and evidence for a police report, if necessary.
Compile a List of Local Contractors
Just like any real estate investment, you should hope for the best but prepare for the worst. Damage from accidents, normal wear and tear, and typical maintenance will all be a part of your vacation rental experience at some point. To limit the stress of these moments, compile a list of reputable local contractors before an unexpected event occurs. Your future self will thank you when you aren't frantically reading plumbers' reviews in the middle of the night.
Keep Your Listing Updated
Remember that the vast majority of marketing for any vacation rental is done through online listings. Make sure to keep your listing updated, investing in high quality photos and making sure to note any changes or upgrades to the property. Providing as much accurate and detailed information as possible in your listing will help attract your ideal guests, and support the goal of satisfied customers who leave five star reviews, a key to vacation rental success.
Ready to learn more about investing in a Canmore vacation rental? Contact us any time.