Is a Condo in Canmore a Good Investment?
Posted by Devin Stephens on Friday, January 27, 2023 at 9:42:21 AM
By Devin Stephens / January 27, 2023
Comment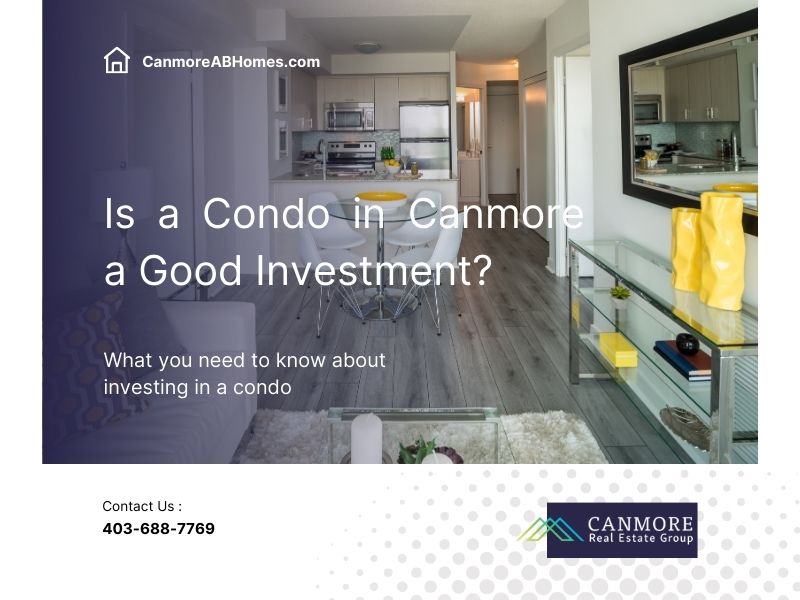 Choosing where to buy real estate in Canmore, and what type of real estate to buy, requires an informed strategy. You will find a beautiful selection of condos in Canmore, ideally suited for both investment properties and personal residences.
Are you wondering if a condo in Canmore is a good investment? We can help you find what you are looking for, so contact us any time to learn more. In the mean time, here's what you need to know about choosing to invest in a condo.
What qualifies as a condo?
A condo is technically defined as a single privately owned unit within a building or community of units. In some cases, people use terms like townhome and condo interchangeably, but generally speaking a condo is comparable to an apartment, yet each individual unit is privately owned.
Are condos more affordable?
Condos in Canmore are generally listed for a lower price per square foot than a single family home, with some exceptions. If you are looking to stick to a strict budget, you may find that opening up your search to include condos will increase your options substantially.
As you consider the affordability of a condo, keep in mind that the ongoing expenses of owning a condo differ a bit from owning a single family home. Before deciding which is more affordable for you, take these factors into account:
Condos are lower maintenance, where exterior repairs, maintenance, and landscaping are generally not the responsibility of the homeowner
HOA fees tend to be higher for condos than single family home communities
The amenities offered by the condo community may eliminate your need for other expenses, like gym memberships
What questions should I ask before buying a condo?
As you determine whether to invest in a single family home or a condo in Canmore, start by identifying your goals for the property. Are you planning to own it for decades, or leverage it as a stepping stone to another investment? Will this be your primary home, or are you looking to list it as an investment property?
Other questions you should ask before buying a condo include:
Does this condo community allow short term vacation rentals, or long term rentals? The answer to this may be a pro or a con, depending on your plans for the property.
What amenities are included, and what is the process of raising the HOA fees to access these? Understanding the financial strength of the condo association and how frequently they are allowed to raise rates for homeowners will help you plan for the future.
How is the land around this condo community zoned? With new development taking place in Canmore, pay attention to what might change about the location of the condo.
Is a condo a smart investment?
There is a common myth that many have heard, stating that buying a condo is not as smart an investment as buying other real estate. This is oversimplified, and not always the case. The most important factor in making sure your investment in a condo is smart is getting all the information you can. Understand the desirability of the condo location, the expenses associated with ownership, and the ways you are allowed to leverage the investment (such as listing the condo as an income property). Working with an experienced team of real estate professionals you can trust is essential in making a smart investment, negotiating the deal, and understanding all the elements of a contract before closing on your purchase.
Ready to find out more about investing in a Canmore condo? We are here to help. Contact us any time to learn more!