The Latest News on Luxury Properties in Canmore
Posted by Devin Stephens on Tuesday, May 11, 2021 at 11:00 AM
By Devin Stephens / May 11, 2021
Comment
Canmore has plenty of natural beauty, outdoor adventures, and entrepreneurial opportunities to offer its residents. These are just some of the reasons why the local luxury real estate market is thriving. Those who work hard and are looking for an ideal escape from the hustle and bustle are drawn to the area, seeking luxury properties in Canmore that will allow them to live a more balanced lifestyle.
Despite the emergence of a global pandemic, the Canmore luxury real estate market has continued to thrive— a true testament to how desirable the region is to potential buyers. It's a place people want to be… but what should those people know before they made the decision to invest?
Right now, there's much to be considered regarding luxury properties in Canmore. So, in an effort to help you make an informed buying decision that best suits your current and future needs, we've decided to take a closer look at the trends and developments impacting our local luxury market.
Here is the Latest News on Luxury Properties in Canmore:
Rising Closing Prices
As mentioned above, there continues to be a demand for luxury homes in Canmore, and with demand comes the increased likelihood of bidding wars and higher closing prices. This is a reality that potential buyers must come to terms with when considering purchasing a property in 2021.
To be more specific, the closing price for both condo and single family homes increased by approximately 16% between 2019 and 2020, with that trend holding firm into 2021 as well.
As of February 2021, the average closing price for a property in the area is $1.1 million— a figure that is justified by Canmore's breathtaking scenery, appealing amenities, and evolving business sector.
Before making the decision to invest in a local luxury property, it is best to align yourself with a knowledgeable professional. Working with an experienced luxury realtor in Canmore will better equip you to negotiate effectively and secure your dream home at a price that is both fair and beneficial to you.
Increase in Buyer Interest
The driving force behind the higher closing prices mentioned above is the current demand for luxury homes in Canmore, and there are a few different factors contributing to that demand.
To start, Calgary real estate prices increased by 0.03% from 2019 to 2020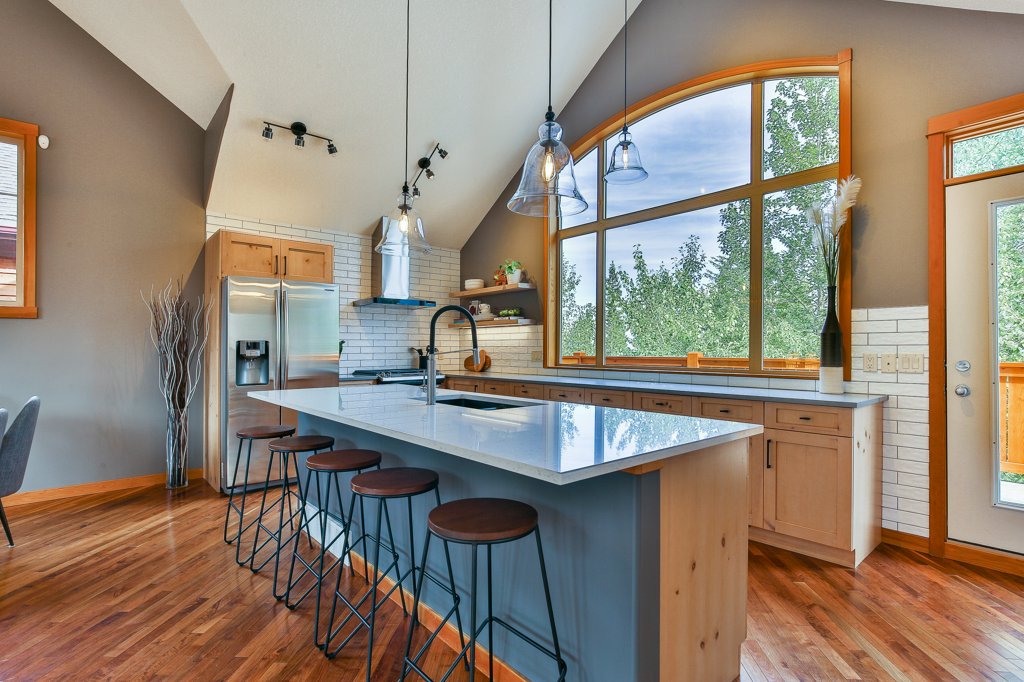 and this upward trajectory is expected to continue in 2021. For potential buyers who want to maximize the square footage they get for their money, looking at luxury properties in Canmore (as opposed to Calgary) makes a lot of sense. Being outside the city means lots are larger, square footage is more affordable, and high-end finishings or amenities are more attainable within a specific budget.
It's also important to note that Calgary is currently experiencing a seller's market. Many sellers are receiving multiple offers on the properties because inventory is low. This means it's an excellent time to sell a property at a profit. With this in mind, many urban dwellers are offloading their city homes and reinvesting their money in more suburban areas where they can enjoy more space and a more relaxed lifestyle— making Canmore all the more appealing!
Shortage of 3-Bedroom Luxury Condos
Those interested in owning a piece of the Canmore luxury real estate market should also be aware of existing inventory restrictions. Unfortunately, some property types are more common than others, or attract more interest, making them difficult to secure.
There aren't a lot of 3-bedroom luxury condos in Canmore, for example, and those that do exist come with a sizable price tag. It is far easier to find a 3-bedroom townhome or single family home. Or, if you can do without the third bedroom, opening up your search to include 2-bedroom condos will yield more results.
When you combine this current lack of 3-bedroom luxury condos with the fact that construction projects have slowed significantly, the situation becomes even more dire. It is highly unlikely there will be new 3-bedroom units added to the market in the near future, and those that do become available will sell lightening-fast.
The best course of action? Evaluate your needs for your next property versus your wants. You'll need to be flexible in order to find a property that's suitable for you.
Choose Canmore Real Estate Group for Your Luxury Home Search
At Canmore Real Estate Group, our agents have ___ years of combined experience representing buyers and sellers in the rocky mountain region.
Our team takes an energetic and proactive approach to representing clients who are seeking luxury properties in Canmore. We understand that a luxury home is a significant commitment, both financially and sentimentally. You want to feel confident about your investment and your ability to enjoy your new space for years to come.
When you select Devin Stephens as your representative, he will skillfully negotiate on your behalf and take care of all the pesky paperwork that comes with finalizing a sale. Ultimately, our team is here to ensure you not only find the right property, but that you enjoy your buying experience from start to finish.
Are you ready to start your search? Reach out today.