Low Maintenance Landscaping for a Canmore Vacation Rental
Posted by Devin Stephens on Wednesday, January 18, 2023 at 7:24:14 PM
By Devin Stephens / January 18, 2023
Comment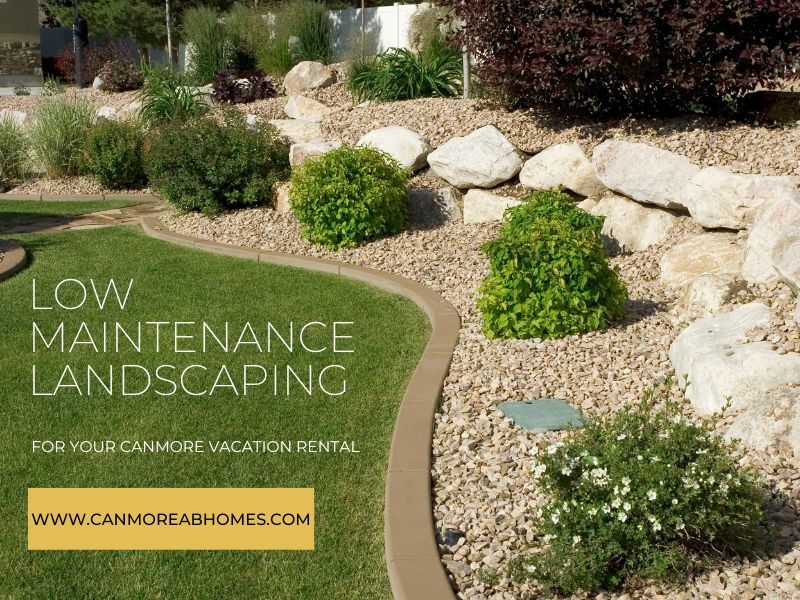 Are you thinking about how to streamline the management of your vacation rental in Canmore? Opting for low maintenance landscaping is a great way to do just that. With the right strategy, you can optimize the efficiency and cost-effectiveness of your vacation rental's exterior design.
Looking for the perfect property to transform into a vacation rental in Canmore? We can help you find the right investment property to meet your criteria. Contact us any time to learn more.
To design an exterior plan that makes the most sense for your time and money, consider these low maintenance landscaping tips for your Canmore vacation rental.
1. Look for native plants
As you choose which plants to incorporate into your landscape design, choose things that are native to the area. While you may be able ot keep a tropical garden alive, it will be far less maintenance (and make more sense aesthetically) to opt for plants that would naturally call this area home.
Native plant species have already adapted to the climate, water levels, and atmosphere of the area so that they will be more likely to thrive with less TLC. That translates into less work for you, or less work for your landscapers which will translate into a more cost effective scenario.
2. Increase the deck or patio space
Not only will a larger deck or patio be a great feature to advertise on your vacation rental's online description, but it will also make the exterior lower maintenance. By decreasing some of the garden beds or lawns to make space for a bigger patio or deck, you will replace some of the exterior elements that require regular and seasonal maintenance with something that stay relatively the same all year long.
3. Look for zero-water ground cover options
If your property has a large space that needs to be landscaped, you may need a ground cover of some kind. Choose a zero-water option for the lowest maintenance situation. Mulch, rock, stepping stones surrounding by bark, or other non-plant life choices will require minimal upkeep.
4. Stay away from water features in your landscape design
As beautiful as they can be, fountains, ponds, waterfalls, and other water features are high maintenance landscape design elements. They will require regular maintenance to keep clean and in good condition, will need to be winterized and given other seasonal maintenance, and may present additional safety hazards or liability. Avoid the additional expense and potential for problems by opting out of water features for your vacation rental.
5. Consider artificial turf
Depending on your unique property, replacing the lawn with a high quality artificial turf may be a great investment. While more expensive upfront, artificial turf can last for years with almost no upkeep.
If the property has a large lawn that will require you to hire a lawn care company and deal with fertilizing, trimming, edging, weeding, and other maintenance, do the math to determine how much you will spend watering and maintaining the lawn each year. You may find that an artificial turf will be the less expensive option more quickly than you think, and it is inarguably the lower maintenance choice.
Ready to get started on the search for your Canmore vacation rental? Contact us any time.
Phone(403) 688-7769

Email[email protected]

Fax(403) 770-8546

Address Canmore Real Estate Group
MaxWell Capital Realty
!#201A 306 Bow Valley Trail
Canmore, AB T1W 0L1?