Make Your Canmore Vacation Rental Perfect for Holiday Getaways
Posted by Devin Stephens on Thursday, November 16, 2023 at 11:59 AM
By Devin Stephens / November 16, 2023
Comment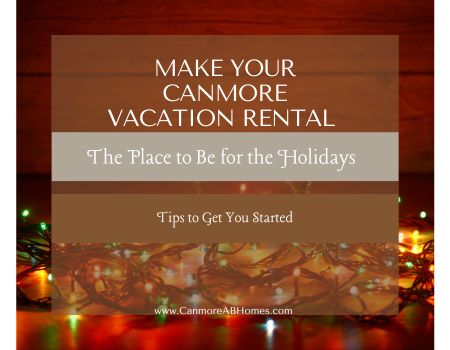 The holiday season is a magical time, filled with joy, celebration, and the desire to create lasting memories. As a vacation rental owner, tapping into this festive spirit can make your property a sought-after destination for those looking to celebrate the holidays away from home. This often means an opportunity to capitalize on a more lucrative season as well.
Canmore is already one of the best places to visit any time of year, and during the winter holidays there are even more reasons for your potential guests to choose your destination. If you are looking for the perfect property to transform into a vacation rental in Canmore, we can help. Contact us any time to get started.
Here are some smart strategies to attract people to your vacation rental as the perfect place for holiday festivities.
Advertise Holiday Amenities
Enhance the holiday experience by providing special amenities that cater to the season. Consider supplying a welcome basket with holiday treats, hot cocoa, and perhaps a bottle of festive wine or champagne.
Advertise your property as a comfortable, luxurious, and convenient place to celebrate. Perhaps you can provide elevated kitchen equipment so that Thanksgiving or Christmas meal preparation is a breeze in the home, or maybe you can offer a concierge service of some kind.
Show your potential guests how perfect celebrating New Year's will be in your property's outdoor hot tub or display a fireplace and mantle with stocking hangers ready to go. Look for places you can feature and advertise holiday-specific amenities.
Holiday Decor
Transform your vacation rental into a festive wonderland by decorating it for the holidays. Consider a theme that complements the destination or offers a universal appeal. Adorn the space with twinkling lights, wreaths, and even a beautifully decorated Christmas tree. Creating a warm and inviting atmosphere will make guests feel like they've stepped into a holiday retreat.
Offer a Themed Package
Create enticing holiday-themed packages that go beyond the standard rental. For example, offer a "Christmas Getaway" package that includes decorations, a holiday meal kit, and perhaps even tickets to local holiday events or activities. Tailor packages to different holidays, ensuring your rental is attractive for various celebrations.
This can also help you optimize your search engine results so that guests searching for something like a "vacation rental for Christmas in Canmore" will be brought to your page.
Provide a Local Holiday Guide
Canmore is a great place to celebrate the holidays because they are wonderful winter activities and events to enjoy. Provide guests with a comprehensive guide to local holiday events, festivals, and activities. Highlight nearby attractions that are beautifully lit or offer special holiday performances. Include recommendations for the best spots to view holiday lights or where to find unique gifts for their loved ones.
Invest in Technology
Equip your vacation rental with the technology that allows guests to celebrate in style. Consider providing a high-quality sound system for playing festive tunes, a smart TV for holiday movie marathons, and perhaps even a virtual reality setup for a unique and memorable experience.
Investing in some smart home features for your vacation rental will be worth every penny.
Family-Friendly Features
If your target audience includes families celebrating the holidays together, ensure that your rental is family-friendly. Consider providing board games, holiday-themed crafts, or even a small selection of children's holiday books. Catering to families can make your rental particularly appealing during the holiday season.
Ready to look for homes for sale in Canmore so you are ready to capitalize on the holiday season with your vacation rental next year? Contact us any time.