Move-In Ready or Fixer Upper?
Posted by Devin Stephens on Wednesday, October 26, 2022 at 5:06:26 PM
By Devin Stephens / October 26, 2022
Comment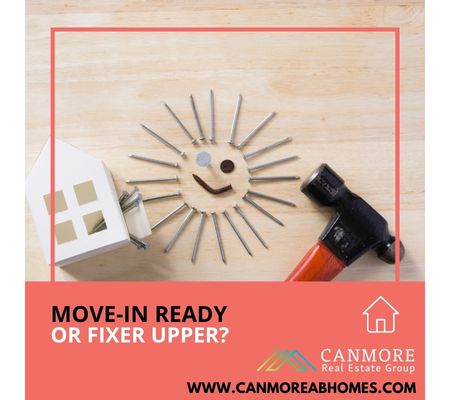 When you begin the process of looking at homes for sale in Canmore, you will come across properties in a variety of conditions. Some are brand new or newly renovated, perfectly move-in ready, while others are waiting for some TLC to make them what you need.
Deciding whether a move-in ready property or a fixer upper is better for you requires asking yourself some questions and being realistic about your resources and your plans for the property. Keep reading for some thoughts to consider as you decide exactly how you want to invest in Canmore real estate.
To find out more about properties for sale in Canmore, contact us any time!
Fixer-Uppers may be in Higher Demand than You Think
As an increasing number of investors realize what a great market Canmore is for rental properties, demand for fixer upper properties has increased. This is because a property that needs some improvement may represent the opportunity to profit more. This is not always the case, but a well-informed purchase of a fixer upper can result in instant equity after the renovation.
If you are motivated to capitalize on this same opportunity, keep in mind that the competition for the ideal fixer upper properties can be steep. Be prepared to make your best offer and act quickly when you find a property you like. To be prepared, define your goals, your wish list, and your budget (making sure to secure pre-approval) before you begin looking at properties.
Move-in ready properties are still in high demand in Canmore, but you will be competing with a different group of hopeful buyers. The benefits of a move-in ready property include convenience and an immediate move-in date. For many buyers, it is hard to beat the efficiency of buying a property that is ready to welcome you home the next day.
Be Realistic about Your Resources
A fixer upper presents the opportunity to make a profitable investment, but it also presents a host of unknowns. Before deciding to purchase one, be realistic about your resources. While optimism can be a valuable asset, be mindful of how it may cloud your decision making. Home renovations are notorious for bringing surprising challenges, so prepare for a process that throws a few curveballs your way.
Embarking on a home improvement journey will require 3 major categories of resources: time, money, and stress. Decide how much of each you have available to invest into the property to help make a realistic decision you won't regret this time next year.
Define Your Long-Term Goals
One of the best ways to make any decision is to first determine what the long-term goal is. Ask yourself why you are investing in this property and what you hope to get out of it. If you are looking to purchase a lucrative vacation rental, that will likely guide you to a different property that you would choose if you were looking for a place to retire or somewhere you raise your family.
Whatever your goals, we are here to help you find your ideal property in the Canmore area. Contact us any time to learn more!