Nightly Rentals: What Property Owners Need to Know
Posted by Devin Stephens on Monday, July 20, 2020 at 12:38 PM
By Devin Stephens / July 20, 2020
Comment
Canmore is a top tourist destination year-round. And it's no wonder: the Canadian Rockies are the perfect backdrop during all seasons. With a strong pull to outdoor enthusiasts, the Canmore area embraces all that the wild mountains offer while also providing visitors the comfort and amenities we have grown accustomed to. With so many people coming to the area, it's no wonder the demand for short-term and nightly rental properties continues to increase. This is a key time for real estate investors to own a revenue-generating property! Before diving into the short-term rental world, read through this post about nightly rentals and what property owners need to know!
Canmore Rules on Nightly Rentals
Zoning Rules
To preserve the livability of full-time Canmore residents, nearly all residential neighbourhoods in Canmore are off-limits to operate as a nightly rental property. There are a very few exceptions, but as an investor you cannot expect to purchase a house in any neighbourhood and be able to use it as a vacation rental. Instead, many of the "tourist-home" approved areas fall into commercial parts of town (think apartments, condos, etc.).
Owner Procedures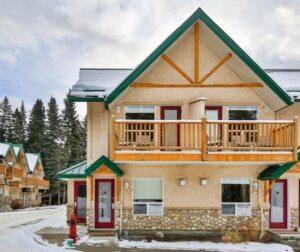 Once you purchase an approved property that allows nightly rentals, you must obtain a development permit. A development permit is required in Canmore when there is a change in the way the land/property is used. For more information on the process or to begin your application, click here.
To use your new property for nightly rentals, you must also obtain a valid business license as the rentals are, indeed, an income-generating business. Any business with a permanent address within the town of Canmore requires a license to operate. To look into what you need to do for a business license and to start the process, click here.
Expected Returns on Nightly Rentals
Because there are multiple ways to handle your short-term rental property, the rate of return varies. Below we've outlined a few options for managing your property, as well as different considerations to account for.
Self-manage
The quickest way to make a profit on your investment property is to handle the rental process yourself. This includes more than just running your own marketing campaigns. From handling the cleaning and preparation for renters, investing in renovations, upgrades, and complimentary entertainment items, this all falls on the owner. You also must factor in general maintenance needs such as yard work, filter replacements for HVAC units, changing light bulbs, etc. Because you are responsible for all of this work, a self-managed rental property is really only beneficial if you live near the area as you will be on-call in case of emergencies with your renters.
Site Hosting
Most investment property owners have found their way to a vacation rental site host such as Airbnb and VRBO. These hosting platforms have many benefits that take much of the guesswork out of marketing a nightly rental property. Most sites will have guidelines and suggestions regarding scheduling, guest rules, and pricing. These listing sites make their money off of reservations. Airbnb, for example, charges a 3% flat fee of each reservation. VRBO is a bit higher, ranging from 8-10% per reservation depending on different factors calculated into the transaction.
Property Management Companies
If you buy the property strictly as a real estate investment, you may want to work with a property management company. This option is more expensive. It's also a good option if the owner doesn't plan to spend much time on the property themselves. If you are looking for an immediate ROI, you may want to begin with the previously mentioned options. Because the tourism industry is so important in Canmore, there are multiple property managers and companies to trust with your property.
Canmore's appeal is only growing. Social distancing will be the standard for the foreseeable future. Because of this, the availability of outdoor activities will inevitably drive more people to the area. Appropriately-zoned nightly rental properties are hard to come by, but at Canmore Real Estate Group we have an amazing opportunity for investors. The Banff Woods Lodge has two-story townhomes available right next to Banff National Park and five miles from Canmore.
These properties are the perfect chance to own your own mountain retreat and also make back your investment. And these properties are already zoned for short-term rentals, so there is no need for the owner to apply for a license! Our team of professionals is ready to help you find your next real estate investment property. Reach out to Devin Stephens. Devin is a seasoned real estate agent and a driving force behind the Banff Woods Lodge development! To contact Devin, send him an email at [email protected] or call 403.688.7769.