Operate a Successful Vacation Rental in Canmore by Identifying Your Ideal Guest
Posted by Devin Stephens on Friday, August 4, 2023 at 7:17:25 PM
By Devin Stephens / August 4, 2023
Comment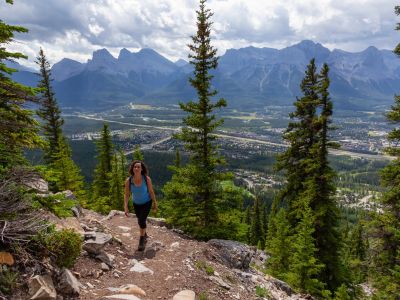 Designing a vacation rental involves more than just creating a comfortable and aesthetically pleasing space – it's also about tailoring the experience to a specific target audience. Identifying the right audience and catering to their preferences can significantly impact the success and profitability of your vacation rental.
Canmore is an ideal location for investing in a vacation rental. With steady demand from toursits around the globe all year long, you have the opportunity to achieve an impressive occupancy rate and create a signficiant stream of passive income. In order to do this, you need the right strategy to attract the right guests, and this starts with knowing who your ideal guest is.
Not sure who your ideal guest would be? We have some things to think about.
Clearly Define your Goals
Before you start catering to a specific audience, clarify your goals as a vacation rental owner. Are you aiming for maximum occupancy, higher rental rates, or a balance between the two? Your goals will influence the type of guests you attract and how you design the space.
Choose a Niche
Rather than trying to appeal to everyone, consider choosing a specific niche or target audience. This could be adventure seekers, luxury travelers, pet-friendly vacationers, or cultural explorers. Focusing on a niche can help your rental stand out in a crowded market. Canmore has many vacation rentals, but maintains a steady demand from tourists to support them all. However, catering to a specific audience will help you quickly stand out when visitors search for accommodations.
For example, catering to families in your vacation rental design can be as simple as providing cribs, childproofing options, and a high chair. These features can be advertised on your listing to market yourself to young families visiting Canmore.
Likewise, many tourists visiting Canmore are travel influencers who want to be able to document their entire trip in an aesthetically pleasing way. These guests are more likely to choose a vacation rental based on its design appeal and on trend aesthetic than others.
Be Practical
As you decide who your ideal guests would be, be practical about the properties that are available in your budget. Do they make more sense for a couple on a romantic getaway, a large group of friends or extended family, or a small group with children? You can design your vacation rental to suit any group, but looking at which will take the most reasonable investment is going to work in your best interest.
Because so many diverse types of visitors frequent Canmore, you have a wide range of options available to you.
Consider Amenities You Will Offer
Consider the amenities and services that your target audience values most. Families might appreciate a well-equipped kitchen and kid-friendly amenities, while business travelers might need a comfortable workspace. Offering relevant amenities enhances the guest experience and attracts the right people. You may naturally fall into a certain category based on the amenities you are finding in potential properties.
Pricing Strategy
Remember that the type of guest you are catering to will also determine your pricing strategy. For example, a couple on a honeymoon is likely willing to pay a higher price for a more luxurious experience, while a group of hikers may be simply looking for the most affordable choice even if it means fewer comforts.
Your pricing strategy should align with your target audience's budget. Luxury travelers might be willing to pay a premium for high-end amenities, while budget-conscious travelers might appreciate competitive rates. Both strategies can be effective and profitable, but you should choose one and stick with it.
When you have decided what you are looking for, or you want to learn more about buying real estate in Canmore, contact us to get started.