Plan Your Weekend in Canmore
Posted by Devin Stephens on Friday, October 21, 2022 at 11:43 AM
By Devin Stephens / October 21, 2022
Comment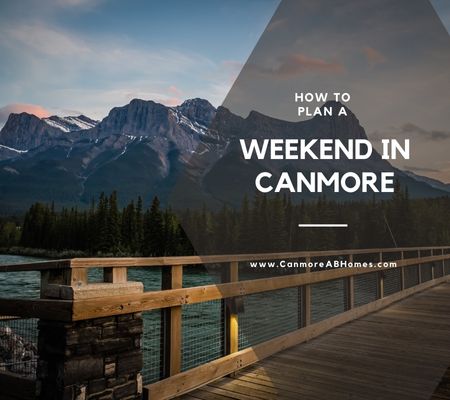 Canmore is ideally located for a quick weekend getaway, near enough to major cities like Calgary just an hour away. Even if you are not able to spend the entire week in Canmore, there are plenty of ways to enjoy it over the weekend.
As you see all that Canmore has to offer, not to mention being just next to Banff, you may realize it is the ideal place to invest in a vacation home. While there are plenty of beautiful places to stay without buying your own, having a vacation property of your own will take your vacationing to the next level. It may be more attainable than you think, especially if you consider leveraging the investment by listing it as a vacation rental, which often covers the expense of the investment and even becomes a source of income. To learn more about finding a vacation home of your own in Canmore, contact us any time!
Want to get started on your weekend in Canmore itinerary? Check out these ideas.
Grab Breakfast from Le Fournil Bakery
One of the best places to order breakfast in Canmore is Le Fournil Bakery, known for their impeccably executed French pastries. Not only will you find an impressive selection of both sweet and savory pastries, but you can also order a gourmet sandwich or handcrafted espresso drink.
Whether you want to slowly sip your espresso while reading a book or grab something to take with you to the Bow River, you will love Le Fournil.
Take a Hike
You can't take a trip to Canmore without planning at least one hike. It may feel nearly impossible to choose just one, with so many breathtaking and world famous trails in the area. In Banff National Park, you will find scenery that makes your jaw drop, no matter which direction you choose.
Another excellent choice is Grassi Lakes, a popular hike in the Canmore area because it is relatively easy and accessible for most fitness levels, but still brings you to absolutely gorgeous scenery. The peak of the hike will bring you to panoramic views of turquoise lakes, the Bow Valley, and Canmore.
Policeman's Creek Boardwalk is another favorite, with nearly 4 kilometres of boardwalk running along the creek. You'll catch sight of ducklings, anglers, and mountains all without being far from downtown Canmore.
Try a New Restaurant
Canmore is filled with great restaurants, whether you are looking for something casual or a fine dining restaurant fit for a proposal. For a casual setting where food is taken seriously, check out The Wood. Looking for a more elegant atmosphere? Try The Sensory. And any list of restaurants in Canmore would be incomplete without mentioning Ankor.
Explore Downtown Canmore
There are few mountain towns that can top Canmore's downtown area. Cafes, boutiques, galleries, and all kinds of local small businesses are located in a walkable stretch, all against a jaw dropping backdrop of the mountains. Depending on the time of year you're planning you weekend in Canmore, you might catch a farmer's market, seasonal festival, or special holiday gathering. Don't forget to leave a little time in the itinerary to explore this charming downtown area.
Want to learn more about making Canmore your home away from home? We can help. Contact us any time!