Prioritizing Renovations that Increase Resale Value
Posted by Devin Stephens on Wednesday, November 30, 2022 at 5:08:53 PM
By Devin Stephens / November 30, 2022
Comment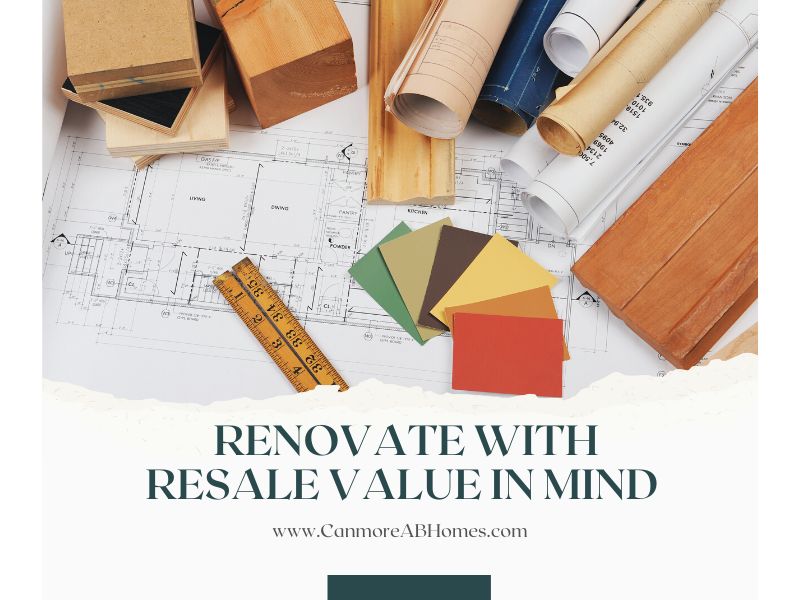 Whether it is a vacation home, a primary residence, or an income property, you might be considering some renovations on your property. As you decide where to invest your time and money, be sure to prioritize resale value and the expected ROI on those improvements. Even if you plan to hold on to the property for a long time, the resale value of the improvement is worth considering in the process.
Looking for your ideal property for sale in Canmore? We would love to help you find it. Contact us any time to learn more.
Check out these ideas for home improvements that have the added benefit of increased resale value.
Why keep resale value in mind?
Whether you are planning to flip the property or own the home for decades, resale value should always factor into your home improvement planning. Some renovations will make your property significantly more appealing to future buyers, while others may ultimately become a deterrent when the time comes to sell.
Because you cannot guarantee what type of market you will be subject to when the time comes to sell, it's always in your best interest to make renovation plans that prioritize increased resale value. This doesn't mean you can't make choices that you personally like, but it might keep you from investing heavily in something you will likely have to change before selling.
Home Improvements that Add Resale Value
There are some tried and true home improvements that will add resale value. Consider prioritizing these as you plan out your renovation, keeping ROI in mind as you transform the property.
Flooring
Upgraded flooring is a great way to make a space feel new, with major potential for adding resale value. Not all flooring will add resale value in the same way, but hardwood, luxury vinyl plank, or engineered hardwood are widely considered to be a great long term investment. If the home has linoleum or vinyl flooring, choosing to upgrade to tile or another hard flooring is another slam dunk with a great ROI.
Additional Living Areas
Increased living areas can make the home more usable, and increase its appraised value. If the property has an attic or basement that could be converted into a finished living area, this is an awesome opportunity to maximize your investment. Transforming a basement or attic into a media room, guest space, or other living area will increase the overall square footage and make the property more attractive to a wider range of buyers in the future, not to mention making it more functional and enjoyable for you in the meantime.
Kitchen Upgrade
A kitchen remodel is one of the upgrades that is shown to increase the value of the home most reliably. Most buyers are looking for an updated kitchen, and it may even be the deciding factor between two properties they are considering.
Prioritize timeless design elements in your kitchen upgrade to be sure that the added resale value doesn't diminish overtime. Add in trendy touches with less expensive elements, like hardware or lighting fixtures, while keeping the major investments like cabinetry, countertops, and appliance finishes to something with timeless appeal.
Bathroom Remodel
Bathrooms are another obvious choice for renovations with a high ROI. Follow similar guidelines as the kitchen project, prioritizing timeless design for the major components and implementing trendy or personal design preferences in the details.
Want to learn more about investing in real estate in Canmore? We can help. Contact us any time to learn more.