Sell Safely in Winter: Tips for Homeowners in Canmore
Posted by Devin Stephens on Tuesday, November 10, 2020 at 9:59 AM
By Devin Stephens / November 10, 2020
Comment
The winter real estate market in Canmore is booming and this season may just be the best time to consider selling your home–safely–or simply getting an evaluation to see how much your home is worth!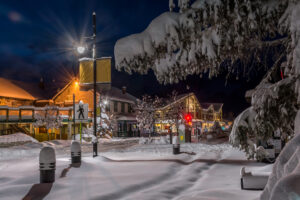 There's no other way to describe this year's winter market other than: unprecedented.
This is not your typical winter market. Homes are selling quicker than ever, and home values have increased remarkably since the spring. Detached homes in Canmore currently sell for an average of $1.1 million.
In October 2020, we saw 75 properties sold in Canmore. Compared to the 41 properties that sold in October 2019, you'll see why we are predicting a lucrative winter market. Homeowners are taking advantage of the seller's market, which is why home prices are increasing and properties are selling fast!
Thinking about taking the plunge? We've compiled 3 tips for homeowners in Canmore who are looking to sell safely this winter. It's shaping up to be the most profitable season of 2020 and early 2021.
1. Work with a real estate agent
It may seem obvious, but working with a real estate agent will allow you to sell your home quicker and for the best price. Agents are trained in negotiation, and at Canmore Real Estate Group, we have the most up-to-date technology to market your home effectively. Home buyers begin their search online, and it's important to stand out from the other listings. We use high resolution photos and even aerial shots of your property to create an effective digital marketing strategy.
Your real estate agent should also have the necessary tools to create beautiful virtual tours and open houses to keep you and your family safe.
2. Hold virtual tours and open houses
Speaking of virtual tours, according to a report by Local Logic, there has been up to a 500% increase in people requesting virtual tours in Canada. Furthermore, as stated by The Canadian Real Estate Association, 341 463 homes traded hands over the Canadian MLS® System as of August 2020. This is an increase of 0.8% from last year. At the end of August, homes sales in 2020 have caught up to the numbers recorded in 2019. Even though homebuyers are relying on virtual showings and open houses, homes are selling across Canada every day and Canmore is no exception!
In order to make these virtual experiences as smooth and successful as possible, agents have updated their digital tools. Gone are the days of sub-par photos taken by a phone camera. In the current circumstances, with so many Canadians requesting virtual tours, digital sales tools like camera equipment and current cell phones are necessary.
We can increase the number of people viewing a home online with beautiful 3D, 360° tours and high resolution indoor/outdoor photos. This will decrease the number of people walking through your home to keep you safe.
3. Enforce safety protocols for in-person showings
If you do have in-person showings for your home, Canmore Real Estate Group has many protocols in place to keep you safe. Masks are required when walking through a home. There may be a waiver that potential buyers must sign in order to attest to their lack of COVID-19. A strict no-touch policy would also be enforced. We may ask you to leave doors open and lights on so that potential contact places are minimized. Buyers essentially treat the home like a museum.
Taking these steps will ensure that the sale of your home is safe, smooth, and fast. If you've considered selling but decided to hold off until after the pandemic ends, reach out to Devin Stephens. Equipped with the most modern technology for gorgeous virtual property tours, exceptional knowledge of the Canmore real estate market to create an effective digital marketing plan, and the ability to keep you and your family safe during the sale of your home, Devin is the go-to Canmore real estate agent. And if you're still unsure about selling–simply reach out for an evaluation. Your home may be worth more than you think.
To contact Devin of Canmore Real Estate Group, send him an email at [email protected] or call 403.688.7769.