The Importance of a Home Inspection when Buying a Vacation Rental
Posted by Devin Stephens on Saturday, November 12, 2022 at 12:19:49 PM
By Devin Stephens / November 12, 2022
Comment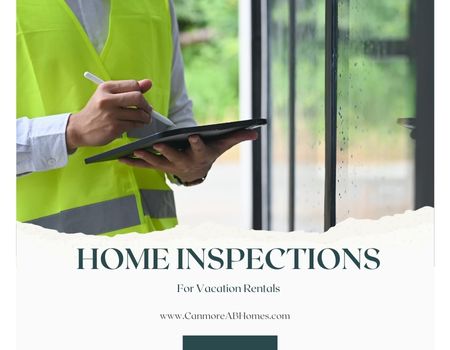 Whenever you set out to buy real estate, the home inspection is an essential component of the process that allows you to move forward with confidence. This becomes perhaps even more consequential when the purchase is intended to be a vacation rental. Keep reading to find out why.
Want to learn more about property for sale in Canmore that might be perfect for your vacation rental plans? We can help! Contact us any time to get started.
What is a home inspection?
After your offer has been accepted and you enter the escrow process, a home inspector can be hired (and is usually required by your lender) to determine the condition of the property. The home inspector will complete a review of all the major systems in the home and write up a report letting you know if the home was built and/or renovated up to building codes, if there are an urgent repairs that need to be done, and the general condition of the heating and cooling, plumbing, electrical, and other major systems.
Why does a home inspection matter for a vacation rental?
All properties should be inspected prior to closing in order to make an informed purchase. When you are buying a vacation rental property, there are a few unique reasons that you will want to make sure a thorough, high quality inspection is completed.
If you intend to leverage this property as a vacation rental to create an additional income stream, your bottom line matters perhaps even more than it does when you buy a personal home. As you calculate how much you plan to spend on purchasing, renovating, furnishing, photographing, and listing the property, it becomes even more important to make sure you will not be surprised with a costly repair that is urgently needed.
Additionally, one of the most vital factors in running a successful vacation rental business is securing a steady stream of glowing reviews from your guests. This is the best way to continue booking your property to create that predictable stream of income. If you forego a home inspection, or ignore an inspection report that presents some major red flags, you risk not only the property itself but the experience your guests will have. Let's say the heat goes out during a guests' winter vacation. A major issue like this will result in more than just an expensive repair for you; it may also turn into a detrimental review that causes potential future guests to choose a different property.
Stand out from your competition by welcoming guests into a vacation rental that is in excellent condition and provides a comfortable place to stay.
How much does a home inspection cost?
The cost of a home inspection will vary, but you can generally expect to spend between $500 and $800 to hire a quality home inspector. We can help refer you to one we trust!
What are my options after receiving the inspection report?
Let's say you get the inspection report back and there are some unexpected problems with the property. If this happens, there are a few options available to you, including:
Back out of the purchase entirely and begin looking for a new place to buy
Ask the sellers to complete the repairs before closing
Ask the sellers to lower the selling price in light of the condition of the home
Ask the sellers for a credit to cover the cost of renovation or repair after you buy the home
Depending on the problem that is revealed, your capacity to deal with a repair, your timeline, and your threshold for managing a renovation project, any of these choices may be the right one for you. We can help you navigate the sometimes complex process of buying real estate with confidence. Contact us any time to learn more!