The Key to Maintaining 5 Star Reviews in Your Canmore Vacation Rental in 2023
Posted by Devin Stephens on Friday, June 9, 2023 at 11:26:53 AM
By Devin Stephens / June 9, 2023
Comment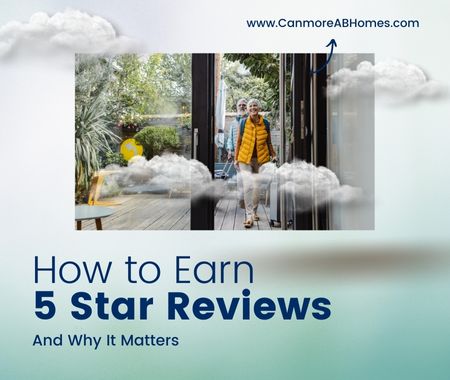 A Canmore vacation rental can be a successful and lucrative stream of passive income, with the right strategy in place. One of the keys to success is maintaining 5 star review status on your listings, providing your potential guests with confidence to book with you over your competitors.
Earning 5 star reviews on a continual basis requires effort. In order to stand out from your competition in the Canmore vacation rental world, consider these tips.
1. Provide a local guide
Your guests will likely arrive with some things in mind, but it doesn't hurt to provide them with lists of things to do in Canmore, the best restaurants in Canmore, or where they can find essentials like a grocery store and pharmacy.
Set yourself up as a true host, making it easy for your guests to find the things they need to enjoy a pleasant stay. The more they enjoy their trip overall, the more positively they will associate with your vacation rental and leave a glowing review for your assistance.
2. Make your property photogenic
One of the best ways to market your property and lead your guests to feel excited about it is to make it photogenic. This generation of tourists want a place they can brag about a little on social media, so decorating your Canmore vacation rental to be something they want to show off online is essential. While you may be comfortable in a simple vacation rental, remember that photogenic vacation rentals are often more profitable.
3. Think of everything
Okay, we know it might be impossible to actually think of everything, but you want your guests to feel that you did. Pay attention to the details that might offer comfort or convenience to your guests, like:
Leaving a basket of travel toiletries that they may have forgotten, helping them avoid a trip to the store. This should include toothbrush and toothpaste, floss, shampoo and conditioner, a razor, and makeup removing wipes.
Fully stock your kitchen so the won't have to run back to the store when they find out there is an essential supply missing. This includes all the tools required, like a good quality pans and knives, as well as basic cooking ingredients like olive oil and seasoning.
Make sure there is plenty of extra bedding and pillows so your guests can make themselves at home.
Provide some water bottles, tea, and coffee so your guests do not have to immediately run to the store on arrival.
Since nearly all your guests will be exploring outdoors during their stay, provide complimentary supplies like sunscreen and a small first aid kit.
Leave a welcome basket with some local goodies, a gift card to a nearby coffee shop, and some branded items that are both useful to them and helpful for passive marketing.
Small touches like these will wow your guests and lead them to feel like you thought of everything, even if they didn't.
4. Make a great first impression
We've all heard and understood the importance of a great first impression. One powerful way to achieve this with your guests is to get in touch within minutes of them booking, and then checking in.
It might look like this: send an email shortly after they book their stay with you, communicating your excitement about their booking, offering some tips and ideas for planning their trip itinerary, and inquiring about any special requests you might be able to accommodate. Then, a few minutes after you see they have checked in you can reach out again. This time, welcome them to the property and make sure everything looks the way it should. This allows you to set yourself up as a hospitable and "on-top-of-it" host in case there are any issues that need to be resolved.
Ready to look for the right property to invest in and transform into a vacation rental? We can help you find homes for sale in Canmore that will be ideal for a vacation property. Contact us any time to learn more.