The Top 8 Reasons to Love Owning in Canmore
Posted by Devin Stephens on Friday, February 7, 2020 at 12:19 PM
By Devin Stephens / February 7, 2020
Comment
We hope wherever your home is, you love where you live. "Home" is who you share it with and how you bring what you love into perspective. It's easy to understand why homeowners love living in Canmore. We've set out to create a list of the top eight reasons to love owning in Canmore, AB.
Setting: There are fewer things more beautiful than a mountain peak at sunrise. Or sunset. Or even in the middle of the day. The Canadian Rockies surround the town of Canmore with awe-inspiring views. Regardless of the season, the mountains provide all of us a reminder of the power and beauty of nature and the insignificance of many of our worries. That simple, timeless reminder is one of the biggest reasons to love owning a property in Canmore.
Accessibility: Many mountain towns seem to be cut off from the rest of the world. This isn't the case for Canmore. Although the hecticness of big-city commercialized living doesn't reach its borders, Canmore is only an hour away from Calgary and the international airport. For anything you can't find in Canmore (which isn't much) you are a quick drive away from a major city. The accessibility to every possible amenity is part of the reason Canmore's housing market is so competitive.
Modern Conveniences: Calgary is close by, but there is really no need to leave Canmore unless you truly want a day in the big city. With a variety of restaurants and bars, everything-you-need grocery stores, thriving schools, and plenty of concerts and festivals, Canmore has all the modern conveniences of a city coupled with the small-town environment. You truly get the best of both worlds when you live in Canmore.
Small-Town Friendly: With the laid-back mountain atmosphere and the close-knit community, Canmore is a friendly
place to live. Neighbors know each other's names – and usually the names of their pets. A smaller population brings with it the hospitality that many yearn for from the past: Helping one another with yard work (thank goodness for extra shovels during the winter!), checking on mail when someone's out of town, and borrowing a cup of sugar when the pantry is low.
Thriving Community: Canmore is open to so many opportunities for entrepreneurs. The population of Canmore is diverse, ranging from retirees to young, well-educated business owners. When a community is comprised of so many forward-thinking, hardworking individuals, the limits are endless for what a town can bring to its people.
Recreational Properties: Although Canmore is fantastic year-round, there are peak seasons where tourists flock to the town. The rental market is competitive during peak season, and if you own a property you can be on the receiving end of those benefits. Choosing to rent out your home can help offset the costs of your initial investment and mortgage. (Side-note: There are guidelines to rental properties in Canmore, so before you list your property for rent during the year make sure to talk to your Realtor or a city representative about restrictions!)
Outdoor Opportunities: The town of Canmore offers year-round activities for outdoor recreation. As with many mountain towns, there is an atmosphere of whole-person wellness that begins with embracing what nature offers. From swimming and mountain biking during the warmer months to snowshoeing and skiing during the winter, there is an activity for everyone to be found in Canmore.
A Small Town with Big Dreams: Canmore is considered a small town, but there is nothing small about the opportunities provided in the area. As more and more people search for permanent residences, the town continues to grow. Businesses find support, families find community, and individuals find peace. The hopeful, uncompromised environment of Canmore is one of many reasons its residents love owning here.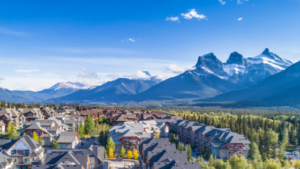 It's easy to see why Canmore is an amazing place to live. Many of our visitors come and decide they don't want to leave. Fall in love with the beauty and opportunity in Canmore and let us help you find your perfect "home." At Canmore Real Estate Company, we pride ourselves on staying on top of the available properties and keeping up with the market outlooks. Reach out to our seasoned real estate agent Devin Stephens and be on your way to owning in Canmore. He is your go-to agent whether you're searching for a rental property or a permanent place to call home. With years of experience and a high client satisfaction rating, Devin is happy to answer any questions you have about properties, neighborhoods, and the current market. To get ahold of Devin, give him a call at 403.688.7769 or reach out via email at [email protected].