Try These Canmore Ice Cream Shops on Your Next Vacation
Posted by Devin Stephens on Tuesday, June 13, 2023 at 3:29:51 PM
By Devin Stephens / June 13, 2023
Comment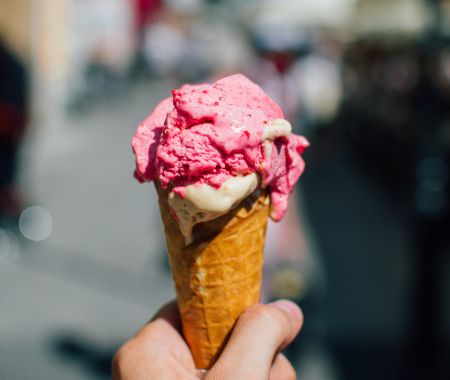 In our opinion, every vacation should feature some extra treats. Satisfy your sweet tooth during your Canmore vacation at one of these local ice cream shops, or better yet try them all and rank your favorites.
Canmore is a great place to vacation for many reasons, one of which being the ideal blend between raw natural scenery and conveniences in the downtown area. You can enjoy a breathtaking hike in the gorgeous Canadian Rockies, feeling totally away from it all, and still head back at the end of the day to enjoy a gourmet scoop of ice cream before relaxing into your vacation home.
Add these local ice cream shops to your list before your next trip.
1. The Old School Bus
As the name implies, this ice cream shop is a converted vintage school bus that serves cups and cones from the windows. There are tables and seating set around the bus, which is parked at the edge of downtown Canmore.
Choose from over 25 flavors of ice creams and sorbets, or order a special ice cream float. They also leave out water for dogs so you can bring your pets along to enjoy an end of the day treat on the patio. The Old School Bus Ice Cream is open seasonally, so check their dates to make sure you don't miss out.
2. Scratch Rare Ice Cream
Scratch Rare Ice Cream is hand crafted by the chefs at Blake Canmore (a great place to grab dinner). These scratch made, small batch ice creams are some of the best gourmet dessert options in all of Canmore.
A limited menu of just 3 dairy and 3 plant based flavours changes daily, so you may want to stop by multiple times during your trip to try as many as you can. Generous serving sizes and unique flavour combinations, like vanilla with graham cracker and mini chocolate eggs or strawberry rhubarb compote and oatmeal cookie crumbles in vanilla, are sure to satisfy.
3. Sweet Revenge
For a positively decadent ice cream sundae, check out Sweet Revenge. Their indulgent flavour combinations are unique and memorable, like truffle oil and black sea salt on the Butter Honey Sundae or the Cookie Monster Sundae with chocolate and vanilla swirl, Oreos, cookie dough, and more. Another favorite is the Ha Ling Peak Sundae, named of course for the famous nearby hike, featuring hot fudge, salted caramel, and a peanut caramel crunch.
4. Cacao 70
If you'd like to avoid the busyness of downtown Canmore during the summer tourism season, try Cacoa 70. It is located in the Shops of Canmore, set apart from the busiest area of town. In addition to delicious ice cream, they have a wonderful breakfast menu, so you may want to plan a trip for a morning meal before a day of exploring.
Their ice cream menu consists of just a few classic flavours. As the name implies, their ice cream choices emphasize chocolate, and the price and serving size make it one of the more affordable ice cream options in Canmore.
5. Lovely Ice Cream
Born as a passion project when the owner began learning to make ice cream during the COVID lockdown, Lovely Ice Cream features hand crafted, scratch made ice cream. The attention to detail and commitment to small batches makes a major difference here. They are committed to using only real food ingredients, with no colouring, flavouring, or additives so that you can enjoy ice cream as if you were making it at home.
With homemade quality and a reasonable price point, this is one of the best ice cream options in Canmore. In addition to classic flavours, try something like Chai or Jupiter (chocolate and orange).
Are you considering a Canmore vacation home of your own? Whether it's going to be an income property or a second home for personal use, Canmore is a great place to invest in real estate. Contact us any time to learn more about vacation homes for sale in Canmore and how we can help you find the right one for you.