Vacation Rental Maintenance Checklist
Posted by Devin Stephens on Friday, July 22, 2022 at 5:12 PM
By Devin Stephens / July 22, 2022
Comment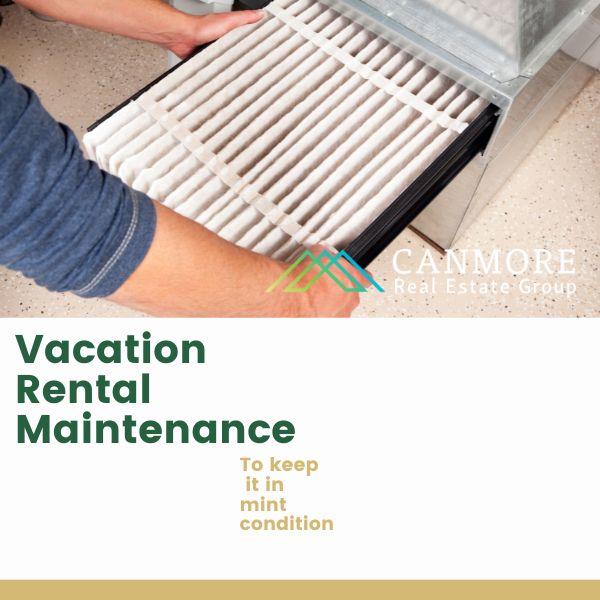 Setting up a vacation rental is one of the most lucrative investments you can make, allowing you to benefit from a nearly passive stream of income while having access to an asset you can enjoy any time.
Canmore is an ideal location for vacation rentals, with many of the best things to do in Canada within a short drive. First, take a look at the guidelines for running a vacation rental in Canmore. Next, contact us to begin the search for your ideal property.
Once you have established your vacation rental, one of the best ways to run a successful vacation rental business is to stay on top of maintenance. If an issue with the property is discovered by a guest, you are likely to end up spending more on refunding the guest and/or a rushed solution to the problem than you would have in basic, regular maintenance.
Not sure what needs to be maintained? We have a vacation rental maintenance checklist to help.
Air Conditioning, Heat, and Appliances
Hire a pro to do an annual check of the heating and cooling systems in the rental property. Simple maintenance you can DIY is also important like changing air filters every 6 months goes a long way toward keeping them running at their best, saving you money and keeping guests happy.
Refrigerators are also most likely to last with regular maintenance. The coils should be cleaned at least once per year, and water filters changed every 6 months, or more frequently as needed.
If you have a washer and dryer in the property, take care to maintain them by performing a deep clean of the washer drum, inspecting hoses, and cleaning the exhaust duct yearly. While they likely will get less use than a home machine, a little maintenance will go a long way in getting your money's worth.
Linen Inventory
Bed linens and towels tend to wear out quickly in a vacation rental, so it is a good idea to check quarterly for any signs of becoming thread bare or otherwise wearing out. Investing in high quality linens the first time around is a great way to save money in the long run. Discount sheets and towels have a tendency to wear thin quite quickly, which may result in your spending far more than anticipated keeping the property stocked with fresh linens.
Examine Kitchen Supplies.
Part of stocking your vacation rental well is having a fully equipped kitchen for your guests. Every 3-6 months, check your kitchen equipment for signs of damage or wear. Nonstick coating on pots and pans may be damaged or peeling, knives may need to be sharpened, or perhaps you are now missing some dishes or utensils due to getting broken or lost.
Keep Batteries Fresh
Many vacation rentals are equipped with a variety of smart home features to streamline the process for you as the host and the guest. Some of these will require batteries, which should be refreshed regularly before guests run into an issue. Devices that need batteries will likely include:
TV remotes
Remotes for fans, smart blinds, or speakers
Smoke detectors
Carbon monoxide detectors
Smart locks
Review Legal Documents
Something you should be doing regularly, at least every six months, is reviewing your legal documents. Liability waivers, guidelines for guests, checkout lists, and any other document your guests sign should be read over with the new context experience will give you.
Perhaps you will realize some language in the waivers are unnecessary, but more likely you will think of new guidelines to add, items that should have been in the contract, or any other detail you realize you should include.
Owning a vacation rental is likely to be one of the best investments you ever make. To be sure you are taking the best care of your asset, keep up with maintenance and enjoy your extra income stream and dream vacation home.