Ways to Make Canmore Your Home
Posted by Dale Hildebrand on Thursday, June 25, 2020 at 5:32 PM
By Dale Hildebrand / June 25, 2020
Comment
Have you been finding yourself looking at Canmore homes for sale every time you visit this beautiful mountain town? Well, we can't blame you. Canmore has so much to offer not just in terms of our outdoor options which are plentiful, it has a pretty specific mountain home style that will have you wishing you could own a slice of this paradise. Imagine spending your days chasing summit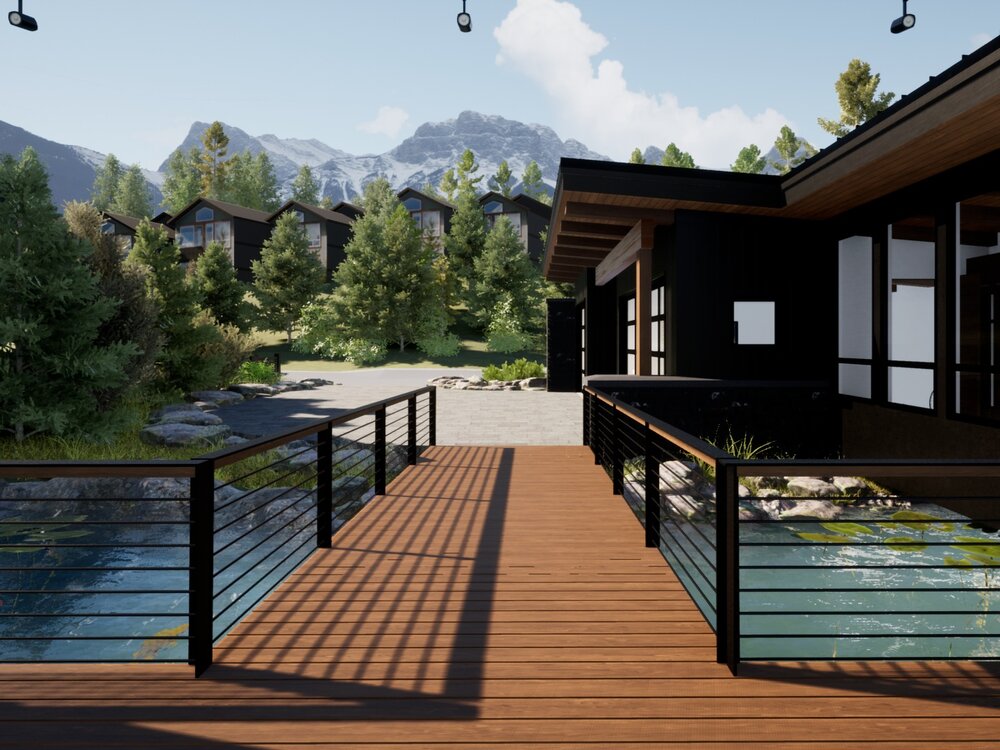 sunrises, climbing down by lunchtime to enjoy a brunch with some good friends at one of Canmore's world class restaurants, spending your afternoon golfing, squeezing in a bike ride along a turquoise lake before dinner, and finishing your day by the fire watching the sun go down behind the Canadian Rockies straight from your living room window. What an actual dream!
With the recent events all over the world, a lot of us got stuck in less than ideal situations for a few months. Working from home or trying to entertain our families in limiting urban homes whilst seeing people in mountain towns enjoying the great outdoors in a sensitive way, got many of us thinking about what our lives could really be like had we lived in a different setting. Having the luxury of getting outside, enjoying incredible views and fresh mountain air, and keeping a safe distance from others if required, may sound like a dream, but it's totally possible to be a part of this.
What makes the mountain town of Canmore special and helps it stand out from the crowd of similar mountain towns is its community. You will likely not meet people who care so much about what happens within the town borders whilst simultaneously being so welcoming to visitors and tourists alike. We pride ourselves on the town's variety of activities, both indoors and outdoors. Plenty of cafes to hang out in with friends, yoga studios and art galleries to keep us entertained when the weather doesn't cooperate, and of course all the options for us to enjoy outside in nature.
If you've been dreaming about living in a mountain town for a while now, Canmore is the perfect place for you. A decision to move here may come easy considering all the amazing things you've heard about this place (which are all true!) but it needs to be taken seriously. After all, it's your dream home we are talking about. When looking for homes for sale with mountain views and some of the world's best hiking and biking trails at your doorstep, you have two options. Go through Canmore real estate listings and start visiting existing homes for sale or find a mountain home builder and build your own dream home.
BUY A HOME
This option is pretty straightforward. The most important thing in the beginning of your research is to find a real estate agent you can trust. Of course, you can go through the Canmore MLS listings by yourself but having someone in your corner who is familiar with the area and what it has to offer is a step in the right direction. When you meet your real estate broker make sure to discuss everything that is important to you. The "musts", the "wants", and the "not-so-important" aspects of your future home. Whether you're looking through listings of luxury homes for sale in Canmore or real estate with mountain views (or both!), your real estate agent will know exactly where to find what you're looking for.
Point out what are the absolute musts to you and get ready to start the viewings. And don't be afraid to change your mind if you see something you fall in love with. It could be an amazing bathroom with spa-like features, a state of the art fireplace, or a sunny deck that will guarantee the best light all day. After all, you are seeking a luxury mountain lifestyle you've been working towards your whole life! Your real estate agent will adjust your search accordingly and make things happen for you.
Alberta mountain real estate varies greatly across the Bow Valley area and it's impossible to know what you want exactly until you begin your visits. Things will get clearer as you go, with your agent by your side and with their experience and expertise to guide you through this process. Once you find the right home for you, that's where the work really begins. Now it's time to make an offer, negotiate the price and conditions, and make sure you secure that one home that stole your heart. And that's where having the right person in your corner really matters. Your agent will make sure everything runs smoothly every step of the way and you can start your mountain adventure as quickly as possible.
We know looking for a perfect home is a stressful but exciting process, but we also know that if it's alpine homes you're looking for, Canmore is the best place to find them.
BUILDING A HOME
If you have a very specific image of your dream home in mind and existing options aren't quite cutting it, then building a house with an experienced mountain home builder is the way to go for you. It all starts with finding the best developer for your future home. Someone who understands the process from planning and 3D renderings to putting together the finishing touches, but more importantly someone who will listen to your every word when it comes to how you envision your dream home.
And we can't stress enough how important it is to find a home builder who is familiar with the area. That way you don't simply get a developer, you get an expert who will help you build a home around your desired lifestyle. If you are seeking a quiet life and a picturesque setting to walk your dog every day, a quieter part of town might be the perfect place for you, and if you're looking for a more vibrant lifestyle, the downtown Canmore will be a much better fit. Trust your developer to provide you with a helping hand and guide you through this important decision.
Before your mountain home construction even begins, you will have to sit down with your home developer several times to make sure everything is planned exactly the way you want. Choosing the right builder is such an important step so consider someone with years of experience, and maybe an added bonus of a wide range of engineering skills. This type of developer focuses on functional, efficient home designs that provide lasting value.
And after you pick the developer you can trust your future home with, you will get to enjoy the most exciting part of your custom home building: picking every little detail to your liking. From a kitchen sink to how big the windows will be in every room, we are talking every single thing in your house will be the way you envision.
Open plan designs become more and more popular these days, and if that's something you would like to see in your future home don't be shy to discuss it with your home builder. An experienced developer will have a variety of available options to offer you for any type of interior and exterior design and will work closely with you to make sure you don't have to compromise even the smallest details. They will also help you with the aspect that is often overlooked when custom building your home, landscaping! No house comes without a front and a back yard and even when your home is finished, it won't be quite complete without the rest of your lot being taken care of.
Another important thing to consider when building your home from scratch is how energy efficient and sustainable it's going to be. Canmorites care deeply about our environment, and if you're looking to be a part of this community make sure to share your thoughts with your new home developer.
BUT WHAT IF YOU CAN'T DECIDE
What if both options sound great and you're not sure which one would work best for you?
Buying an existing home might have its disadvantages, such as not being 100% what you want and you have to compromise a thing or two. After all, it was someone else's dream home and you are looking at fitting your lifestyle around it. But with the help from the right people it can be available to you within a short time so you can start enjoying all the benefits of living in this mountain town as soon as you want.
And building a custom home might cause some stress for you because of potential delays and a lot of decision making. It all depends on your preferences, finances and about a dozen of other factors. If only there was someone who has experience in both options, has a deep Canmore knowledge and access to various buying/selling platforms to give you professional advice.
Well, you're in for a treat! Introducing Dale Hildebrand, the man behind Arbus Mountain Homes. Dale is a professional engineer with 34 years of experience and an executive leader and specialist in regulatory consulting, economic evaluations and related negotiations (amongst other things!). With this extensive range of skills Dale is Canmore's go-to developer and realtor when it comes to luxury custom built homes in the beautiful town of Canmore for a number of years and is well known within the real estate community of the Bow Valley. Dale's expertise in this specific geographical location makes him a great choice if you have your heart set on living in Canmore.
The Arbus Mountain Homes team surrounds themselves with a team of architects, interior and landscape designers and seasoned tradespeople. If the timelines is something you're worried about, their small team approach is what helps them manage the timescales and the quality of work. One thing you can be certain about when working with Arbus, your home is their priority. At Arbus Mountain Homes, Dale and the team believe in working better, not bigger. Focusing on one home at a time and using the latest technology to work smarter, making them more cost effective when it comes to mountain home design and build. If you're looking to build a sustainable and energy efficient home in Canmore, being a recognized expert in Alberta's electric energy industries makes Dale the perfect choice for you.
Arbus Mountain Homes manages multiple home building projects, the most recent being Sofia, Canmore's newest mountain home development project featuring six units conveniently located on Three Sisters Drive. This project's location is ideal if you want to live near the famous Canmore Nordic Centre and have access to trails and the bustling downtown Canmore.
As a realtor, Dale is not only a great buy/sell point of contact, he's also always happy to share his engineering expertise and advice with regards to the house structure and his knowledge of the Bow Valley area.
CANMORE IS WAITING FOR YOU
If you have decided that now is the right time for you to take the leap and make Canmore your home, we can confirm that it is indeed a great time to move here. The Canmore real estate market is full of fantastic options and the right people to help you through this process. With the province slowly reopening there are more and more opportunities now to take the first step and reach out to an expert in the local real estate market.
Endless trails, stunning summits, luxury golf courses, world class restaurants, picturesque lakes and 360 degree mountain views can all be right at your doorstep. Whether you need help looking for your dream home, designing your dream home or building it, Dale Hildebrand and the Arbus Mountain Homes team is your all-in-one Canmore real estate pillar that can help you make it happen!