Why Buying a Canmore Vacation Home in 2023 is Better Than Renting One
Posted by Devin Stephens on Wednesday, May 24, 2023 at 9:57 AM
By Devin Stephens / May 24, 2023
Comment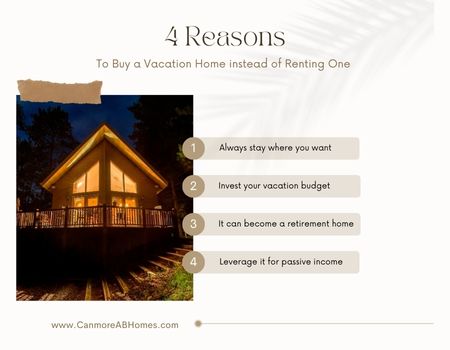 Are you planning a vacation this summer to Canmore or Banff? If this is one of your favorite places to visit, like it is for many people around the world, you may want to consider buying a vacation home rather than renting one this year. Keep reading to find out why.
Canmore and Banff are some of the top places to vacation in the world, featuring breathtaking scenery that you have to see to believe. With access to untouched natural beauty just an hour from a major airport in Calgary, it's easy to access this vacation destination from anywhere. Many people find that Canmore and Banff offer an ideal blend of gorgeous hiking trails, lakes, and other outdoor recreation spots while offering excellent restaurants and luxury amenities.
Here are 4 reasons you may want to buy a vacation home instead of renting one.
1. You never have to search for a place to stay
If you have booked a vacation rental in Canmore or Banff before, you likely already know how challenging it can be to find the place you want. With a great deal of demand, you are in competition with tourists from around the world for the best vacation rentals.
Every time you want to visit the area, you need to book far in advance for the places you most want to stay. If you own your own vacation home, however, this is never going to be an issue. Whether you keep it exclusively for personal use or list it as a short term vacation rental, you can always know that your ideal place to stay is ready when you are.
2. Your vacation funds become an investment instead of an expense
When you budget for a vacation, one of the largest expenses is the accommodations. Imagine if the price you pay for your vacation home was an investment rather than a simple expense. Owning a vacation home means the money you spend for a great place to stay in Canmore or Banff is going toward an appreciating asset, building your net worth while allowing you to vacation in one of your favorite destinations.
3. It can become a retirement home in the future
Have you begun to consider where you would like to retire? Canmore is one of the best places to retire in Canada because it offers so many things to do while being close enough to Calgary to easily access medical services, an international airport, and any shopping you need to do.
When you own a vacation home in Canmore, you can begin investing in and renovating the property to be uniquely yours now, and know that it is ready to become your primary residence after retirement. This is a financially smart way to plan for retirement, buying the home you will retire in at today's market value and allowing it to build equity in the meantime.
4. Your vacation home can be leveraged for passive income
Buying a vacation home in Canmore is a significant investment. You might consider leveraging the property as a source of passive income by listing it as a short term rental. You can block out any dates you want to keep for personal use, and then allow the asset to pay for itself during the other dates. Many people find that the income from the vacation rental business will completely pay for the monthly expense of the home.
Ready to begin searching for vacation homes for sale in Canmore? We can help you find just what you are looking for. Contact us any time to get started.