Why is Canmore One of the Best Places to Invest in Real Estate?
Posted by Devin Stephens on Sunday, September 17, 2023 at 10:09:44 PM
By Devin Stephens / September 17, 2023
Comment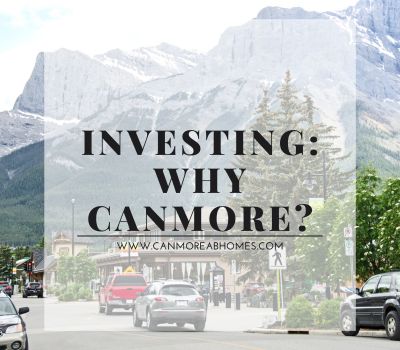 Canmore is a picturesque mountain town nestled in the Canadian Rockies and has become an increasingly popular destination for real estate investment in recent years. Several factors contribute to the appeal of investing in real estate in Canmore. If you're wondering what all the hype is about, here are some of the reasons Canmore is one of the best places to invest in real estate in Canada.
Natural Beauty
Canmore is renowned for its stunning natural surroundings, including the towering Rocky Mountains, pristine lakes, and abundant wildlife. Investors are drawn to the area's breathtaking scenery because it a sought-after location for vacation homes and outdoor enthusiasts, and those looking for a new place to call home are often captivated by the chance to live in such a scenic setting. Canmore is one of the few places that remains equally breathtaking throughout all seasons, with a global reputation as one of the most beautiful places on earth.
Outdoor Recreation
Much like the scenery that can be enjoyed all year round in Canmore, there is always something fun to do outside. From winter sports to hiking or trail running to kayaking to landscape photography, there really is something for everyone and every season.
Canmore is a mecca for outdoor enthusiasts and nearby Banff National Park offers world-class opportunities for nature lovers. Real estate investors are smart to purchase properties with easy access to these outdoor pursuits, appealing to both residents and tourists.
Proximity to Banff
The distance from Canmore to Banff is one of the top reasons to invest here. Canmore is situated just a short drive from Banff National Park, one of Canada's most iconic and visited national parks. The park attracts millions of tourists annually from around the world, providing a steady stream of potential renters for vacation properties. Because the city of Banff has such strict limitations on vacation rentals and development in the area is carefully limited, many investors choose to buy a property in nearby Canmore instead.
Tourism
In addition to the tourists that travel to the area to visit Banff, Canmore itself is a popular place to vacation both for local tourists from nearby Calgary and elsewhere in Alberta, and those flying in from further away.
Canmore benefits from a thriving tourism industry, which brings in visitors year-round. Many real estate investors see potential in short-term vacation rentals, as tourists seek cozy lodgings close to the natural attractions of the area.
The region's popularity as a tourist destination has created a strong short-term rental market. Investors can capitalize on this by renting out their properties to vacationers when not in use, potentially generating rental income. Canmore is not just a seasonal destination; it offers activities and beauty year-round. Whether it's skiing in the winter, hiking in the summer, or enjoying the fall foliage, there is always something to do and admire.
Investment Potential
Real estate in Canmore has shown a history of appreciation in value, making it an attractive option for long-term investors. The limited land supply and strict zoning regulations contribute to the potential for property value appreciation.
While it is true that real estate properties in general are generally an appreciating asset, locations like Canmore present a unique opportunity because of the inherently limited supply.
Proximity to Calgary
Canmore is conveniently located about an hour and a half drive from Calgary, Alberta's largest city and economic hub. This proximity allows residents to access city amenities and employment opportunities while enjoying the tranquility of mountain living.
If you are considering an investment property, especially a short term rental with tourists in mind as your ideal guest, choosing a location that can be easily reached is important. Calgary's international airport makes Canmore an obvious option.
Whether you are considering Canmore for your new hometown, looking for a personal vacation home, or in search of an income property, we can help you find houses for sale in Canmore that fit the bill. Contact us any time to learn more.